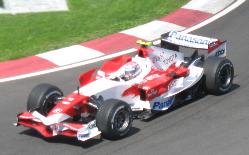 Toyota test driver Franck Montagny has said that Schumacher's lack of form this season has also affected him. The French driver explained that because of Schumacher's lack of form, most of the private testing miles in the TF107 have been assigned to Schumacher, leaving Montagny to spend most of his time watching from the sidelines.
"We only have one car," Montagny explained. "So unfortunately for me, all of my planned days have been taken away. That's the deal – when you sign the contract, you know it can be like this. You hope it's not but there is the possibility."
Meanwhile, Schumacher has denied that an ultimatum is in place over his form over the next two races. "There was no such thing," Schumacher said. "It was only your journalist colleagues," he continued before adding that breaking his 2007 contract was not possible, even if he or the team wanted to.
Schumacher was then asked for his thoughts on the competition between himself and Trulli, with it pointed out that his record against Trulli this season currently stands at 0 – 7.
"What I am supposed to say about that?" Schumacher asked. "Only what I have said every single year in my career – that what is important is the final result. Until the last race, we were only two points apart and now, I think the gap is five. So for the moment I can live with that and it is true that the whole team can improve also."
Last week, Schumacher said he was 100% sure he would still be driving in Formula 1 in 2008. With his Toyota contract expiring at the end of 2007 and with many speculating over his future, he was asked how he was so sure of the future. "Because I know it," he said. "I gave this information because I know it and everything else will be revealed when it is the right time. And it is not yet."