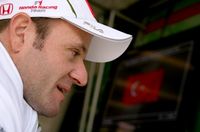 Rubens Barrichello has lost none of his drive despite sixteen years in top flight and a soon-to-be record breaking 257 grand prix starts, insists team-mate Jenson Button.
The Brazilian veteran, 37-years-old, is set to become the most experienced Formula One driver ever this weekend after equalling Ricardo Patrese's record of 256 grand prix starts at Barcelona a fortnight ago.
Team-mate Jenson Button is adamant that the Brazilian sensation is every bit the racer he once was when he burst into motorsport's premier series back in 1993.
"He doesn't look a day over 37!" joked Button in Thursday's press conference.
When asked if he felt the Sau-Paulo hero had showed any signs of slowing in his old age the British ace was unwavering: "No, he has been on it this year."
"He has been doing a very good job. It is good to have a competitive team-mate and a very experienced team-mate as he is. We have got a very good team and a very good team atmosphere and he is good to have alongside."
The man himself meanwhile, who was centre of attention at a special celebrity Golf Tournament last week, is proud to have had such a long and esteemed career in the pinnacle of motorsport.
"This record means a great deal to me," beamed Barrichello. "I've had a long career in Formula One and I have many wonderful memories, but I don't feel any different today to the day when I started out on this journey in 1993."
"My first race, at Kyalami, seems like yesterday. I'll never forget sitting in my Jordan 193 at the start of qualifying, looking at the TV monitor in the pits. For a moment, it felt as though I was sitting at home on the sofa!
"I love driving and racing as much as ever and, importantly, I still love Formula One. I feel happier when I'm in the F1 paddock, preparing for a race, than almost anywhere else."
To mark the Barrichello's momentous 257th grand prix start in Turkey, his Honda RA108 and race helmet will feature a specifically designed livery with the new landmark number on it.
Rubens began his Formula One career with the Jordan team at the South African Grand Prix on 14 March 1993, racing against such legends as Ayrton Senna and Alain Prost. He spent four years with Jordan before moving to Stewart Grand Prix for the 1997 season.
After three years with Stewart, Rubens joined Ferrari in 2000 to partner Michael Schumacher and begin his association with Honda Team Principal Ross Brawn, then Technical Director at the Ferrari team.
Rubens spent six years at Ferrari, achieving nine Grand Prix wins and helping the team to five Constructors' Championships.
In 2006, Rubens joined the Honda Racing F1 Team where he has enjoyed a three-year partnership with Jenson Button and has recently been reunited' with Ross Brawn, who joined Honda as Team Principal in November 2007.
Rubens and Jenson, along with Test & Reserve Driver Alex Wurz, currently form the most experienced driver line-up in Formula One.
What they say:
Eddie Jordan, Team Owner:
"I'd seen Rubens race in Formula 3 and been very impressed by him. But it was only when I got a call from Ayrton Senna, who told me what a great kid he was, that I thought seriously about signing him for '93. Rubens stayed with us for four years and drove some great races. His best race for us was probably Donington '93, where he ran second for a long time, until we screwed up and he ran out of fuel. He might be the most experienced driver of all time, but I think he's still young enough and enthusiastic enough to do the job. Good luck to him."
Jackie Stewart, Team Owner:
"For our first year in F1 we wanted at least one of our drivers to have some experience of F1. We'd competed against Rubens as Paul Stewart Racing in Formula Opel, Formula 3 and Formula 3000 and we liked what we saw. There are two unquestionable highlights of our time together: Monaco '97, where he climbed from 10th to second and nobody dropped out ahead of him, and the European GP '99, where Johnny Herbert and Rubens finished first and third. I'm not surprised that Rubens has become the most experienced driver of all time because he's always been very consistent."
Ross Brawn, Team Principal:
"If you include our time together at Ferrari, I've known Rubens for quite a long time. He's always been very perceptive about the car and able to contribute a lot to its development. He's also a very consistent and determined driver. At the end of last year, he expressed huge enthusiasm about the prospects of the Honda Racing F1 Team and he encouraged me to join. He's still hugely passionate about motor racing and when you give him everything he needs, he can produce the goods. He doesn't waste opportunities."
Michael Schumacher, Team-mate:
"With Rubens I shared a nice time and lots of beautiful memories. We were team-mates for a long time six seasons in which we enjoyed a lot of success together, but most of all a lot of fun. I am sure he would say the same: we really had a good time, not only on-track but also off-track. Rubens is the perfect guy to party with, so I hope he does not wait too long to retire!"