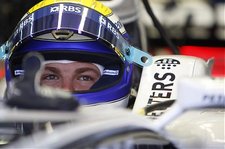 Nico Rosberg professed himself happy as the new Williams showed its pace in Melbourne practice today.
The German topped the timesheets in both sessions, and while conceding that as with testing little can be read into the times, he was nevertheless satisfied with the performance.
"It's been a positive day," Rosberg told reporters. "We've done very well today but it's not clear how much fuel others were running.
"My hopes are higher than before that we can consistently score points. It's a nice step forward but how much, I cannot say."
Today's practice was a mixed day for form-reading, but those teams carrying the controversial rear diffusers were generally more successful than the others. Toyota, Brawn GP and Williams all were at or near the fast end of the times, whereas some more recognised names were further down the field.
Lewis Hamilton experienced something of a culture shock, finding himself well down the order.
"It's tough for anyone [being at the back] but I have a lot of experience running at the back in other categories," said Hamilton.
"But we are not in the place we want to be. We have a steep and tough challenge but we have to remain positive and keep pushing."
Practice continues tomorrow prior to qualifying.