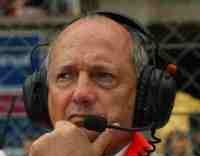 Ron Dennis has refuted rumours that he might be planning a return to Formula One.
Dennis returned to the F1 paddock at Abu Dhabi last month having spent time establishing McLaren's new production sports card division. Dennis was widely thought to have left Formula 1 as part of a deal with then-FIA president Max Mosley over the scandals that rocked the sport.
Abu Dhabi was the first race since 1993 without Mosley as president, the reason many believe that this is the first time that Dennis has been back to the forefront.
However Dennis himself has commented that he has "ruled out a return" to the sport. Successor Martin Whitmarsh has also been keen to point out that the McLaren team is bigger than any one person, supporting the view that Dennis will not be returning.
"While I think everybody in this organisation is indebted to Ron for his leadership and visionary prowess, I also think it's apparent that the team has started to acquire a slightly different style and personality over the last 12 months," Whitmarsh explained.
"Of course, there is still a huge amount of 'Ron' in McLaren – and that's only natural and it's hugely important and beneficial too – but the most important thing I want people to recognise is that the successes achieved by McLaren come from us being a team, not from any one individual."