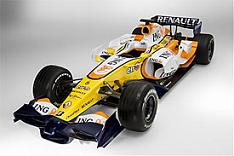 The Renault F1 team have officially launched their 2008 car, the R28, in Paris earlier today.
The R28 Formula One car made it s debut at Valencia last week, driven by former world champion Fernando Alonso. Outwardly, the car looks little different to the R27 with ING still being the main sponsor of the team.
Having had two years of success, 2007 was a poor season for the team, achieving a solitary podium place and managing just third in the constructors championship. The Renault team are hoping that their R28, along with the return of Alonso to the team, will help them challenge at the front of the field again.
"We expect to see the team back in its normal place, fighting at the front of the field," F1 Team president Bernand Rey explained. "This is the target the team has set for the new car.
"On the technical side, everybody has worked hard to overcome the problems encountered last year. "On the driver front, Fernando Alonso's return was an important boost. There is optimism inside the team and within Renault."
Technical Director Bob Bell concurred with Rey and explained how the new F1 car differed from their previous year s offering. "2007 was a very poor year by our standards," Bell said.
"For 2008, there are high expectations inside and outside the team, and it is down to us to give the drivers a competitive car. We have put the problems from 2007 behind us and in terms of the car design, we have looked at the problem afresh.
"The team pushed very hard in all areas, and particularly on the aerodynamics. The front end of the car has come in for special attention with a brand new front wing and the front suspension. The rear end has also been heavily reworked, and we haven't neglected the basics.
"The car ran reliably in its first test, and we made encouraging progress on performance development last week. We are confident that the advances we have seen in the wind tunnel will be reflected on track."