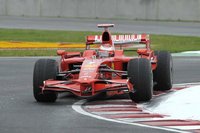 Ferrari boss Stefano Domenicali has said the team are likely to take advantage of the new 2008 rule which allows one free engine change without penalty so that Kimi Raikkonen can have a new engine for the British Grand Prix.
Raikkonen was expected to keep the same engine that he used in France for Silverstone however the team look set to change his engine as a precaution after an exhaust problem damaged his car half-way through last weekend s race.
Raikkonen was leading the French Grand Prix when part of his exhaust worked loose and started to flap at the rear of the car. The problem forced the Finn to slow, allowing his team-mate to take the lead. As the Finn raced on, the exhaust started to burn away some of the engine cover and chassis on his Ferrari, allowing him to pick up speed again and finish the race in second.
When asked if they would be changing Raikkonen s engine before Silverstone, Domencali replied, "I would say it is quite likely. For sure, after such a heavy race from the middle to the end, it is very likely that we have to change it so we need to play the joker that allows us to do it.
"As I said, we will do the analysis later on and tomorrow, but there is no rush to do anything more than eventually change it when we go to Silverstone."
Domenicali also explained that the team chose not to try and remove the loose piece of exhaust during Raikkonen s final pit-stop. The loose piece of exhaust eventually did work itself free and flew of Raikkonen s car towards the end of the race.
"It was already flying away," Domenicali explained. "There was the cable of the lambda and we decided not to cut that because we would maybe lose more seconds, and we had Trulli pushing behind so we took that into consideration. I have to say that in terms of strategy, in terms of teamwork everything was done correctly.
"We were trying to do what we could in order to protect the engine under those conditions and after all the things that were possible to do, just wait until the chequered flag. You could see that there were a lot of switches being moved around.
"For sure we were very worried, no doubt, it was a long race to finish, maybe lost a lot of years and a lot of hair but that's part of the game. In that condition you never know. It may stop any lap, it's too difficult, it's critical."
At the point, Domenicali was unable to confirm what had caused part of the exhaust to fail and has admitted that they may never fully understand all the factors involved in the breakage.
"Unfortunately it was not possible to understand it and also the other difficulty is that we had almost half of the race with all the breaking parts falling apart so it will also be difficult to have the pieces in our hands because they're somewhere around the track," Domenicali continued. "We will try to do the analysis after this weekend but at the moment there's no other info."