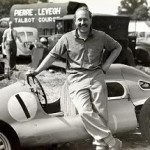 BARRY WOODALL – 2nd March 1919 to 10th December 2011
Former F1 racing driver passed away on 10th December 2011 aged 92 years.
Barry was born and brought up in Dudley, West Midlands where he ran the light engineering division of the family business Isaiah Woodall & Son, until he retired to the Isle of Wight.
His passion was cars. He tinkered with them at every opportunity and designed and built his own racing car at the age of 18, which he lovingly named 'Chatterbox'. His first motor race with Chatterbox was in 1938 at Prescott Park, however his racing dreams had to be put on hold when the war came. He wrote in his racing journal "Sept 3rd 1939. War declared on Germany. Entries for Shelsley Walsh returned! TT cancelled! No more racing, What a life!"
In 1947 driving a Delage, he entered what is now classed as the 1st Formula 1 race – The Ulster Trophy, where he came second. Also that year he gained 1st position in the Jersey Road Race and 3rd in the British Empire Trophy. He enjoyed a further two years on the circuits before hanging up his helmet and goggles. He lived a remarkable life and his adventures will be lovingly recounted and passed on by his daughters Anna and Christine and his grandchildren Alistair, Georgina and Stephanie. He will be sadly missed by all his family and friends.
The Funeral Service took place at Stourbridge Crematorium on 21st December 2011.
Donations if desired to the RNLI or Cancer Research UK c/o H Porter & Sons, South Road, Stourbridge, West Midlands DY8 3UJ.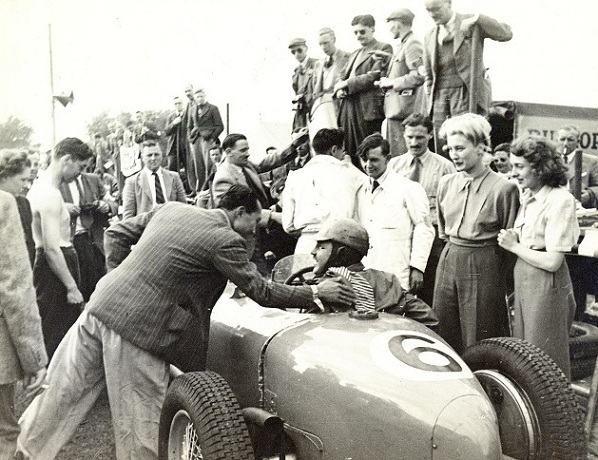 Barry Woodall being congratulated by Prince Birabongse of Thailand after coming second in the Ulster Trophy race

Christine Allen is the daughter of Barry Woodall.