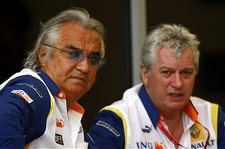 Renault's director of engineering Pat Symonds says he is expecting a strong to the season and is adamant that the new R29 is capable of challenging for race wins.
Pat, it has been a busy winter at the test track – do you feel the team is fully prepared for Melbourne?
I think we're as prepared as we can be, but with the new testing regime we will arrive in Melbourne with fewer kilometres on the car than we would normally have achieved in previous seasons. The weather has also been quite poor during pre-season testing, which has held us back a little, but when the car has been running it has been working well and I'm not too worried.
What about the drivability of the car? Are the drivers happy with it?
At our first test in Portugal we only had one dry day and initially the car was quite difficult to drive, especially as we were getting used to the new aerodynamic characteristics. But as we've introduced the updates in preparation for Melbourne, we've moved towards a pretty driveable car that both Fernando and Nelson are comfortable with and it's now behaving much more as we want it to.
We have some radical new regulations this season do you enjoy the challenge this represents?
I certainly enjoy the challenge and I think it's great to have change reasonably regularly – I wouldn't want to rip up the rule book every year, but the regulations had been quite stable for a while so it was time for a change. There are a lot of things to get used to: new aerodynamics, operational restrictions in testing and of course KERS, which is a technology that we've had to learn from scratch. Initially we may have been sceptical about the ability to get KERS on the car in such a short space of time, but we've managed to get our system working well and that's a credit to all the guys who have worked on our system at Renault.
Is the Australian Grand Prix a popular race with the team?
I enjoy it and I think the whole team does as it's when we get back to racing, which is ultimately what we're all here for. Melbourne is a great city and everybody looks forward to going there, although I suspect we will end up seeing a lot more of the garages in Albert Park than the city itself!
Have you set a target you would like to see the team achieve in the first race?
The target I set at the beginning of the season is always the same: to be winning races and challenging for the championship it would be wrong to have any other intention. However, when you start tempering your expectations with reality, you may moderate that target a little bit. Nonetheless, I do believe that we've got a car that is good enough to challenge for wins and when you combine that with our drivers and the team's ability to go racing, I'm fairly confident we can deliver a strong start to the season.