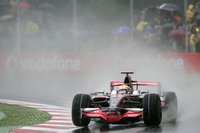 Heikki Kovalainen: "In today's tricky weather conditions I struggled to keep temperature in the brakes, and in the opening stages of the race I had problems with my extreme-wet tyres. First I thought it would improve after a few laps, but it didn't.
"Only at the end was I able to match the lap times of Sebastian Vettel in front of me. In today's conditions he was just too fast for me – congratulations to him for his very first Grand Prix win. I'm happy to have scored eight points, and I look forward to the next race in Singapore."
Lewis Hamilton: "I felt I drove a really good race and was moving through the field very quickly when the circuit was at its wettest. If it had kept on raining, I feel pretty confident I probably could have even won from 15th grid position; but, as the circuit dried out, my tyres overcooked and I had to defend my position from Mark Webber. Still, today was all about damage control: I came away with some points and kept my lead in the world drivers' championship. Finally, I'd like to offer my congratulations to Sebastian on winning his first Grand Prix – I know what a sweet feeling that is!"
Ron Dennis: "Heikki drove well to finish second and bag eight valuable world championship points. The visibility in the rain early on was dreadful, and it was sensible of him to drop back a little from Sebastian in the first few laps. As the race unfolded we thought he might be able to catch Sebastian, but he was prevented from doing so when his tyres began to lose grip as the rain abated.
"Lewis made excellent progress in the wet conditions early on, moving swiftly from 15th on the grid to a potential points-scoring position, and he could well have been able to record a podium finish had the rain persisted and had he therefore been able to maintain his one-stop strategy.
"As it was, he was forced to make an unscheduled stop in order to exchange his extreme-wet tyres for wet-weather tyres, which dropped him back down the field. At first his wet-weather tyres performed well, and he began to catch up impressively; but then, along with various other drivers, his performance deteriorated as his wet-weather tyres began to overheat and lose grip on the drying track.
"Yesterday I congratulated Sebastian and his team boss, Gerhard Berger, on their first pole position; today I commend them on the occasion of their maiden win. It was good to see, and I want to say 'Well done!' to the entire Toro Rosso team for doing a fantastic job."
Norbert Haug: "At various stages of the race it looked great for Lewis, who drove a first-class race. Unfortunately, the rain we had expected for his one-stop strategy did not persist. However, after yesterday's grid position it's okay to score points. A good race from Heikki and another 10 points in the constructors' world championship. Currently, we've scored 28 points more than our closest competitor, Ferrari, in the past six races, since Lewis's win at Silverstone, and now we will concentrate on continuing this trend. Congratulations to Sebastian Vettel and Scuderia Toro Rosso – a sensational and well-deserved victory."