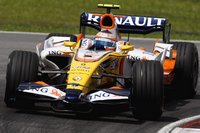 Nelson Piquet was quickest on the third and final day of testing at Barcelona which was interrupted by the red flag no fewer than five times.
The Brazilian, who was given two full days of running to help him get to grips with the R28, completed 112 laps and paced 0.4 seconds quicker than McLaren test driver Pedro de la Rosa.
"Once again we completed the work that we had planned without any problems and we learnt a lot of things," said the rookie afterwards. "We continued with the programme we started yesterday by putting some new things on the car that the team hope to run in the coming races."
"I also had the chance to do some qualifying simulations in the afternoon, which went well. It's nice to be top of the times, but as this is only testing we have to treat these times with caution."
Running was interrupted by the red flag five times during the course of the day, second place man Pedro de la Rosa bringing a halt to the session in the final hour when he stopped out on track with a front wing problem.
Ferrari's Luca Badoer who led proceedings on the opening two days was third quickest and was another driver to bring out the red flag when he ran out of fuel at the end of the pitlane. But the Italian was satisfied with the work that he had completed on the F2008.
"It was a generally positive test," said Badoer. "We were able to work continuously and without any major technical problems. We saw interesting results from some new components, which might prove useful in the forthcoming races."
"On top of that, we also got through everything we had planned in terms of engine reliability work."
Red Bull Racing's Mark Webber continued with the aerodynamic and mechanical development work that David Coulthard and Sebastian Bourdais began on Thursday and Friday. The Aussie wound up fourth quickest ahead of Toyota's Timo Glock and was also responsible for stopping the session due to a mechanical problem.
Nick Heidfeld was sixth fastest for BMW and made good progress addressing the tyre and set-up issues that have been hampering his qualifying performances this year.
Rubens Barrichello in the Honda was similarly satisfied with the progress the team made despite ending up seventh quickest.
"We had a good two days in Barcelona this week and were able to cover a lot of mileage," reflected the Brazilian. "Without any major new test items, we focused on set-up work and I'm happy with the progress that we made. We were able to improve the car mechanically which gives me a good feeling going into the French Grand Prix next weekend."
Nico Hulkenberg and Sebastian Vettel, who ended the day at the bottom of the timesheets, both contributed to the red flag count; Hulkenberg losing control of his FW30 at Turn 4 and Vettel stopping with a mechanical problem.
<pre>
Pos Driver Team Time Laps
1. Piquet Renault (B) 1:20.076 112
2. De la Rosa McLaren-Mercedes (B) 1:20.402 82
3. Badoer Ferrari (B) 1:20.680 63
4. Webber Red Bull-Renault (B) 1:21.037 92
5. Glock Toyota (B) 1:21.158 86
6. Heidfeld BMW Sauber (B) 1:21.295 88
7. Barrichello Honda (B) 1:21.672 83
8. Hulkenberg Williams-Toyota (B) 1:21.674 60
9. Vettel Toro Rosso-Ferrari (B) 1:21.880 72</pre>