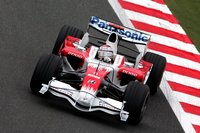 Jarno Trulli couldn't have been happier with his third place in Magny-Cours, Toyota's best result in over three years and a fitting tribute to former boss Ove Andersson who died earlier in the week.
The Italian veteran, who started in fourth place, vaulted past Fernando Alonso at the getaway holding third place late into the race where he fought off a charging Heikki Kovalainen.
Trulli, who last visited the podium back in 2005 at the Bahrain Grand Prix a signal of the tough times Toyota have faced in recent years dedicated the result to former Toyota Chief Ove Andersson who was killed in a rally crash last week.
"What a great result and a great weekend by the whole team," rejoiced an ecstatic Trulli after the race. "We were pushing really hard because we wanted to dedicate this result to Ove Andersson, who has done so much for Toyota Motorsport."
"Today was a great race, hard and tough. We had a good pace, even if we had to battle with some cars that were quicker than us. I had to fight really hard but that is what people should expect both from myself and from Toyota."
Trulli relished every minute of his late scrap with Heikki Kovalainen – which at one point saw the duo side by side in the run down to the Lycee complex.
"When the rain came at the end I had to take care because it's always difficult to judge how bad it is when you're in front," explained Trulli. "But I got back into a rhythm and had a wheel-to-wheel fight with Heikki, just like in go-karts."
"The team is doing a great job, the car is much more competitive and everyone is motivated. Things are moving on."
Toyota President John Howett heralded Trulli's performance as "phenomenal" and paid tribute to the late Ove Andersson, the man who carved Toyota Motorsport into being.
"This is a fantastic day for everyone involved with Toyota Motorsport," said the Englishman. "It was our first podium for a long time so we dedicate it to Ove Andersson, who did so much for the team and will be greatly missed."
"Jarno did a phenomenal job. It was an incredible battle in the closing laps but Jarno's very experienced and it was a clean fight, which was good to see. When it started to rain he had to be cautious but he did a fine job to keep Kovalainen behind."