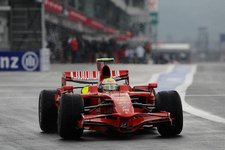 Why Massa must win in Fuji
With pole-sitter Lewis Hamilton increasingly looking, sounding, and above all performing like a champion-in-waiting, Felipe Massa will have to produce something special in Sunday's Japanese Grand Prix if he is to silence his critics and keep his title dreams alive.
Special is well within the Brazilian's remit of course as he has shown to such devastating effect on the streets of Monaco, Valencia and, until his pitlane debacle, Singapore, as well as around the sweeping high speed Bahrain and Istanbul arenas.
But the magic that Massa has sowed there has come in the form of a blistering single lap in qualifying, or a searing, incident-free opening stint at the front. The former well and truly eluded him in qualifying in Japan and he finds himself starting the race from the third row, crucially, behind both Raikkonen and Kovalainen.
"In Q3, I never had the right amount of grip from both sets of tyres that I used," said Massa. "On my first run I was a bit cautious on my "out" lap and so suffered in the first sector, making a mistake at Turn 3."
"On the second run, I did the opposite and found myself without grip at the end of the lap. The set-up on the car is good and we should be competitive."
Doing the business from behind isn't something that comes naturally to Massa. Monza was a case in point, and very much an opportunity missed. If ever there was a race that characterised Massa it was this one. The Brazilian produced what was one of the finest and most overlooked laps of the season to haul himself into the shoot-out against the grain of heavy rain that caught out the front-runners who had left it too late in the day to make their runs.
The big guns twitched and skirmished their way around the rain-hit track in a desperate bid to save face and progress to the shoot-out. Hamilton couldn't do it, and nor could Raikkonen, but somehow Massa managed it, defying his wet-weather critics in the process.
Come Sunday though it was a different Massa behind the wheel of his Ferrari: insecure, lacking in confidence and well off the pace. He started fifth and needed to attack, but he wound up only a single place ahead of Hamilton despite the Briton's grid slot disadvantage. How that race might come back to haunt him.
The bottom line is: Lewis doesn't need to win anymore, Massa does. The reliability and performance of the Hamilton-McLaren package means that it is a given that Lewis will be there or there abouts for the win in the remaining three races.
Lewis didn't need to win the Chinese Grand Prix in Shanghai last year of course, and we all know what happened there, but it's a different Hamilton this year, one that knows when to push and when to be conservative. It was as if the trauma and drama of last year's title climax was a necessary hoop that he had to jump through on his way to becoming a more complete package. Singapore showed there was still room for improvement though.
"Previously, you d tell yourself to be consistent and avoid any unnecessary mistakes but it s one thing saying it and another to do it," explains Hamilton.
"Once you get in the car, it can be hard to stop the instincts you ve been developing since you were eight years old. But I actually think Singapore was a good learning experience: there was less pressure to achieve a victory because of the unusual circumstances, which meant I was actually able to start thinking of the world championship."
"I hate driving for points, but I think we can all see the benefit of that approach at the moment."
Massa wasn't in contention last year and doesn't have the luxury of an option to play it safe; he must fight to finish in front of Hamilton in each of the remaining races and hope that on one of those occasions Raikkonen can get himself ahead of the McLaren. And he knows it:
"For sure the chance is still there," says Massa. "We have 30 points in front of us. "We need to keep fighting until the last lap of the last race."
"So we need to keep fighting until the last lap of the last race. Now it is too early to say. We need to keep fighting and we see how the races go, and if we have managed to change the situation or not. If we can do it, it will be fantastic. If not, we will try again next year."
"We need to see what we can do, and do the maximum that we can do. And at the end of the race we can see if we did a fantastic job, a good job or a bad job."
Massa is severely disadvantaged on Sunday after failing to muster his usual qualifying fight and starting from the third row. If ever there was a moment for Felipe to silence his critics and show he can be a racer, its now.