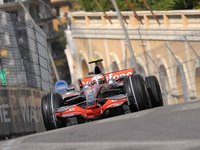 McLaren are confident that they can take the fight to Ferrari in tomorrows dash around the Monaco Principality despite being trounced by the scarlet cars in qualifying.
Lewis Hamilton ruined his chance of pole position with a mistake in his final hot lap in qualifying while Heikki Kovalainen had to settle for fourth despite pushing his team-mate and the Ferraris hard in the opening sessions.
Team Principal Ron Dennis was disappointed with the result but hinted that McLaren had opted for a heavier fuel load than their rivals.
"Of course, we would have preferred to be on pole," reflected the Englishman.
"However, in the race we should be looking good with our strategy, consistency and pace. Especially in Monaco you can destroy your race with a smaller fuel load and it is easy to make a wrong decision in that respect.
"With a good start, and if we can stay out longer, even from the second row it is possible to win here. We have a good strategy and I expect a very hard fought race in hopefully good weather conditions."
Last year McLaren opted to put their drivers on different strategies to pre-empt a safety car situation. It remains to be seen whether the Woking-based outfit have made a similar decision this year.
Norbert Haug, McLaren-Mercedes boss, is confident that Hamilton and Kovalainen can challenge for victory despite their second row starting position.
"Lewis is third, half a tenth of a second away from pole. However, with Heikki lining up alongside him on the second row, both drivers still should be in a position to fight for victory tomorrow."