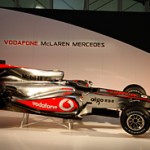 McLaren today launched their 2010 challenger the MP4-25 at the Vodafone HQ in Newbury, while the world's press and guests looked on.
The new car was startling in its appearance, with a noticeably bulkier engine cover designed around the new larger fuel tank, and a raised nose similar to that of last year's successful Red Bull RB5.
Team principal Martin Whitmarsh paid tribute to the design, saying that many thousands of man hours had gone into it. He also pointed out some key features of MP4-25's innovative and revolutionary design, including a radical double diffuser which was covered up by the team for reasons of competitive advantage.
'MP4-25 truly exploits the double diffuser concept. The car has got some things on it that I've never seen before,' joked Whitmarsh, although he refused to specify what they were.
The team principal added that he was 'thrilled' to have the world champion pairing of Jenson Button and Lewis Hamilton on board, paying tribute to their 'astute technical minds' and saying they were natural 'winners'.
Director of Engineering Paddy Lowe went on to outline how having two world champions in the team had pushed his design team to even greater heights.
"Designing this car was a huge technical challenge, with our inspiration and pressure coming from the two world champions we now have," he said.
Nevertheless, Lowe felt the car was 'elegant,' although some observers no doubt disagreed. The prominent 'shark fin' anvil-shaped engine cover stretches right back to the rear wing and has the effect of making the car look slightly awkward.
Drivers Jenson Button and Lewis Hamilton were also effusive in their praise of the car, this being the first time the pair had seen it themselves.
Button said: 'It looks amazing. We can't wait to drive it and the numbers are really positive.'
'It is so much different to last year's car,' Hamilton added. 'I feel great seeing this car as I have had a lot of input to it. But we do have a big heavy fuel tank to get used to, and we're going to need to maximise testing.'