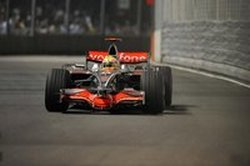 Ferrari's pit lane debacle in Singapore provided rivals McLaren with the ideal ammunition on which to trumpet their new status as championship leaders and Lewis Hamilton's PR were quick to flag up his team's flawlessness under the Marina Bay lights.
"The race was a good example of team-work, with your first pit stop perfectly timed and the whole team working faultlessly during a number of high-pressure situations," was the preamble to a question posed to Lewis Hamilton about McLaren's preparations for Japan on his official website lewishamilton.com
"To be honest, this team has always been rock-solid," replied Hamilton. "We started the year feeling really strong and we just kept developing that. I d say now that the team is the most positive and together that it s ever been."
"Since the middle of the season, we ve got the car in such a sweet-spot that it s been competitive at every race. I think Singapore showed just what we could do we didn t really put a foot wrong."
"I ve got to give credit to the engineers and strategists for helping me to save fuel during the first Safety Car period, and the guys in the garage pulled off two perfect pit stops."
"What more can I ask for? We re just getting stronger and stronger we all want this so much that every race just pulls us closer and closer together."
Hamilton extended his championship lead to seven points as a result of a Ferrari's mix up with Felipe Massa's pit stop, while McLaren have taken the lead of the constructors' championship for the first time since April.
It will not be lost on fans that Hamilton's lead over Massa is the advantage he would have maintained had he won his appeal against his Belgian GP penalty in Paris.