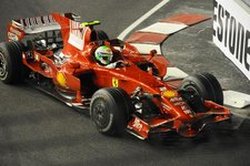 Felipe Massa conceded that qualifying for the inaugural Singapore Grand Prix couldn't have gone much better after he clinched pole by over half a second to Lewis Hamilton.
The Brazilian is only a single point behind Hamilton in the world championship after the Briton's appeal against his Belgian GP penalty was thrown out by the FIA.
Massa's pole position provides him with the perfect platform to take the fight to his title rival and seize the initiative in the world championship.
"The car was just perfect and so nice to drive," Massa said after qualifying. "I managed to do a perfect lap but that is always helped when you have a perfect car and no mistakes, so that is always a great achievement."
"It's just a great feeling. I came to the last corner thinking 'don't make a mistake, don't go over the limit' – because everything can always be worse than it actually is – so I was just taking it corner by corner, not making a mistake, and when I got to the last corner I was thinking 'maybe I can take it easy', but I couldn't.
"It's so fantastic when you're taking the best out of the car, it's one of the most incredible feelings you can feel as a racing driver, and when you achieve what you want its a great achievement."
Massa lapped the new street circuit in a 1:44.801 which was a full 0.664 seconds quicker than Hamilton. Even allowing for a lighter fuel load, Massa appeared to have a significant advantage over his rivals around the spectacular Marina Bay arena.
"Felipe produced a fantastic lap," said Ferrari Team Principal Stefano Domenicali. "The F2008 confirmed that it is competitive in qualifying, with half this season s poles going to our drivers."
"Now we must not get over excited but keep our feet firmly on the ground. Tomorrow should see a long race, riddled with difficulties. In order to win, everything will need to be executed perfectly, right down to the smallest detail."
Luca Baldisserri added: "On a track with so many twists and turns, Felipe was the only one to put together the perfect lap in Q3 and his gap to the others is the proof of that."