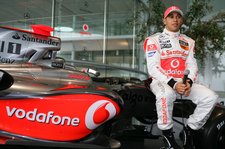 New boss, new car, new rules. Lewis Hamilton found himself entrenched in a wave of change at the launch of McLaren's new car in Woking today.
For once the 23-year-old wasn't the centre of attention. That honour went to Ron Dennis who announced he was stepping down as Team Principal and passing the baton to Martin Whitmarsh (see HERE).
And with sweeping regulation changes for 2009 framing pretty much everything else, not least the MP4-24 itself, it was over to Lewis to provide an element of continuity to proceedings.
Indeed, if you had put Lewis the rookie up on the rostrum alongside the reigning world champion there would have been little to choose between, such was the similarity in discourse.
His supreme confidence in his and the team's ability to tackle the challenges ahead – boarding on but falling short of arrogance – was near on identical to that which emanated from the youngster after he had just signed for the team in 2007.
Even Hamilton himself was explicit about the need to drop his 'world championship' tag, reset his goals and begin 2009 as he did his debut year.
Forumula1.com was there to hear what he had to say on:
His approach to 2009…
I feel more relaxed going into the season simply because I'm come off a great season. It is like when you go from race to race – when you win one race the next one you have gives you some extra confidence. I feel I have reset my goals, and reset my targets back to when I started in Formula One. I want to be world champion. I don't sit here saying I am world champion; I sit here saying I want to be world champion.
Being a world champion…
I can't particularly walk around everywhere without being recognised, but there are ways you can do things. Going to the cinema is easy, keeping my hoody up and hat on, and most of the time I don't get noticed. But I don't go walking around town in whatever country I am in. I was in the States for a while and over there no one really notices me, so I do live a normal life.
Slicks, KERS, and adjustable wings…
I've not driven the slick tyres yet. I didn't do any of the end-of-season testing, so I have not driven with lower downforce, slicks or KERS. I have spoken to the test drivers and they say it is an interesting package to drive. I cannot comment much until I get to the track next week.
I
hope we do have a little bit more overtaking. The way they have made the tyres I hear there is a small operating window, so looking after them will be even harder compared to last year. So it will be interesting.
We don't really know to what effect the new controls will have yet, so for sure the team and the driver that gets on top of it more than the others will have a slight advantage.
That is what we are working towards. And I think for sure once you get the first win out of the way, in every championship you compete in, it does take the pressure off. It does give you a bit of momentum. But every year is just as hard, if not harder with the new regulations, so it will be tough
2008: The Good…
There are very proud moments. Sometimes I may sit on the my laptop and go through some of the pictures I have from last year – and you just remember coming across the line, seeing the chequered flag, the finish line, one of the wins, or it might be a bad race. You look at those and you do reminisce and remember the great moments.
But then you just try to move on. I try not to live in the past. It is a fantastic season, I am world champion and it is a great feeling. I have got to embrace that and carry it with me. I am trying to enjoy my life. I am still young and I have all these wonderful things happening to me, and it is difficult to imagine how many things are happening. I am just trying to enjoy them.
2008: The Bad…
I analysed the mistakes I made last year and, for example Montreal last year, with the pit lane light – every time I go down the pit lane now I am always looking out for the light. You just have to learn from the previous experiences. I am sure there will be some experiences this year that will take you by surprised, and you are always learning.
I am sure the oldest man in the world is still learning today. You have just got to make sure we try to prepare ourselves in advance and try and avoid any mistakes.
Impact of the 2009 regulation changes…
I think definitely it is going to be interesting. If we had an evolution car that was evolving over a few years, then perhaps it would have been easier – although it is never easy.
Definitely when you change the rules so drastically, sure it will be tough to stay dominant for such a long period of time. But as long as we prepare properly and do the job we are supposed to do, which is everyone working flat out to make sure that this car is the best.
We are learning every day with the car in the wind tunnel. We are developing new components for it, so it is going to be developing at such a fast pace this year. How we monitor that and how we make sure we continue to improve with such short testing is going to be interesting.
I think my driving style with slick tyres, I have driven slicks in the past, in GP2, but I not sure if they have similar characteristics, so when I get to the test next week I will get my first feeling of that. But I have always found I am quite good at learning and understanding w
Ron Dennis…
Ron is a huge part of the team. He has got racing in his blood, so he will never leave the team. He will always play a part, whenever he steps down and chooses to play a more quiet role in the background. I am sure he will do something like that.
I will always remain close to him. I've known him see I was 10-year-old. We have a great relationship, and he has made a huge impact on my life – and he still does today. We are great friends. The great thing is we have got great people in the team. It is a huge team, and we are very powerful together. It is not as if when he steps down we are going to struggle. We are very, very fortunate that we will stay a strong team.
The MP4-24…
This is the first time I've seen the car all put together. I've seen the guys working on it over the past few months, and as always it looks very elegant. It is quite a bit different with the smaller wing at the back, it is unusual to see, and it is great to see the slick tyres. The sidepods look quite a bit different to how they have done in the past, but the cockpit is the same pretty much – although I have a few other buttons to play with which is more fun for me. I've always liked gadgets, so I have a few more devices I can play with.