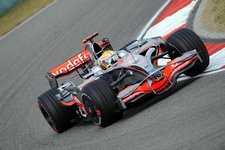 Lewis Hamilton will start Sunday's decisive Chinese Grand Prix from pole position after edging out Kimi Raikkonen and Felipe Massa to the top spot with a searing pace around the Shanghai International Circuit in qualifying.
As was the case in Japan a week ago Hamilton found himself under intense pressure to get himself onto the front row in the final shoot-out after making a mistake on his first flying lap and dropping to fifth place behind both Ferraris.
"It was all good until Turn 8. I ran wide and was on the marbles and lost around seven tenths," he said.
"I had to finish the lap, I couldnt just bail out; I had to get a banker lap in. I came in and the team told mere where the time was lost so I went out and made sure I made the time."
But on his second attempt the McLaren ace produced a stunning lap of 1:36.303 to steal pole position from Raikkonen who had himself edged out Massa.
"I think I come from some positives (after Japan). I came here very strong, very determined and in a good frame of mind.
"Practice had gone well, and qualifying was one of the best sessions. My first Q3 lap wasn't so good, but I managed to pull it together on the last lap and I got close to a perfect lap.
"I didn't have anything hanging over me other than going in with a good frame of mind. I was relaxed, happy with the balance of my car and I knew I could have done it."
"It was tough for sure: everyone was really competitive, even Heikki, but I'm very happy I got the lap done."
Back-to-back GP winner Fernando Alonso found some speed on his final lap and vaulted up to fourth place, demoting Heikki Kovalainen, whom McLaren are depending on to take points of the Ferraris.
Kovalainen, who went quickest during the first run of flying laps, was unable to must the same kind of speed on his second attempt and wound up fifth fastest.
Both Ferrari drivers conceded afterwards that they have been struggling with the balance of their F2008 with Felipe Massa in particular looking ahead for a more positive outcome in the race.
"We have been struggling a bit through the weekend, just struggling to make the right lap, which is quite difficult to put everything together," he said.
"It looks like the McLaren guys found it a little bit easier to pull that together, but we don't know if that will be (the case) in the race."
Team mate Kimi Raikkonen could play a decisive support role to Massa in Sunday's race by taking the victory of Hamilton, but he is also worried about the pace of McLaren.
"It hasn't been the most easiest of weeks," said the Finn. "We tried many things, played around with the setup and finally today we found a good setup, which seemed to work well in Q3."