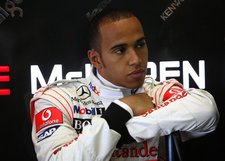 McLaren ace looking to make it count in Budapest
With McLaren confirming their intention to focus on next year's car and bring only small updates to the MP4-24 for the remaining eight races, next week's Hungarian Grand Prix could be Lewis Hamilton's last shot at a podium this season.
It is certainly his best. The twisty, dusty, Hungaroring is McLaren territory. The team have won the race five times in the last ten years with Hamilton and teammate Heikki Kovalainen taking the most recent victories in 2007 and 08 respectively.
As in Monaco, the low speed-high downforce characteristics of the Budapest track should suit the troublesome MP4-24 better than elsewhere, although this year that will be as much to do with the circuit masking the car's aerodynamic weaknesses which become more prevalent in the high speed corners as it is the car's grip and traction in and out of the low speed corners.
"It s a bit like a kart circuit," explains Hamilton. "There are lots of twists and turns and the only place to relax is along the start/finish straight, which is quite short."
All that is irrelevant of course if you start from the back of the grid at a circuit where overtaking is virtually impossible – as Hamilton found out to his detriment at Monaco earlier this year when he spun off in qualifying.
It was another case of opportunity missed at the Nurburgring a fortnight ago, another McLaren track. After equalling his best qualifying performance of the year in fifth place courtesy of McLaren's new upgrade package, Hamilton's race was over before it started after he tangled with Mark Webber at the start and picked up a puncture. Putting the disappointment behind him, Hamilton is looking to make it count in Budapest.
"Given the potential we showed in Germany last weekend, I m hopeful of getting a result that demonstrates the improvement we ve made over the past few weeks."
Both Hamilton and Kovalainen did at least demonstrate the improvements that McLaren have made to their car. Kovalainen was particularly impressive in qualifying coming to within a few tenths of a second of Hamilton's time despite being deprived of the new aero package.
The Finn, who won in Hungary last year when Felipe Massa retired with an engine problem, will benefit from the new parts next weekend and he is under no allusions that another strong qualifying performance will be the ticket to the podium.
"Obviously, I won in Hungary in 2008 so it will be nice to come back to Budapest again," he said. "This race is likely to be won or lost in qualifying: you ve got to be at the front and run an aggressive first stint if you are to succeed in the race."
"The track is also quite hard on tyres so you need to find a balance that will allow you to look after your rubber until the finish the softer rubber, in particular, tends to suffer at the end of the race so you have to be careful. I m really looking to running the team s new upgrade package this weekend.
" I had a strong weekend at the Nurburgring and I didn t let a single car past me in the race with the improved car I m really hopeful of getting another strong result at the Hungaroring."
While a podium remains a distinct possibility for McLaren at Hungary, the team know that they will have to produce something special to topple championship leaders Brawn GP and Red Bull Racing.
"I currently would consider our technical performance still not good enough to repeat last year s victory with Heikki Kovalainen," confirmed Mercedes-Benz boss Norbert Haug.
Red Bull go into the race as favourites having won the last two races but Brawn will enjoy the hotter conditions as Jenson Button looks to defend his championship lead from a two-pronged attack from Sebastian Vettel and Mark Webber.
Team Quotes:
Martin Whitmarsh
"While Lewis demonstrated during practice and qualifying at the Nurburgring that our upgrade package appears to provide us with a sizeable step forward in performance, it was frustrating that damage to the rear bodywork left us unable to fully ascertain that benefit in the race itself. For Budapest, both Lewis and Heikki will be equipped with the new package and we are hopeful that it will enable us to mount a more sustained attack towards the front of the field. The Hungaroring is a circuit where we as a team have enjoyed many successes in the past and we travel there this weekend hoping to provide concrete evidence that we re decisively turning our fortunes around for the remainder of the season."
Norbert Haug
Vice-president, Mercedes-Benz Motorsport
"The Grand Prix circuit just outside Budapest is, after Monaco, the one with the lowest average speed. The layout, consisting of more slower corners, where mechanical grip is especially important, should suit us quite well as demonstrated already in Monaco. However, I currently would consider our technical performance still not good enough to repeat last year s victory with Heikki but in any case we at least have been in the lead for a few metres at the Nürburgring – until Lewis s right-rear tyre was hit which caused a deflated tyre, damaging the underfloor which prevented Lewis later from achieving good lap times. Everybody in the team is giving it their all to continue the upward trend with both cars."