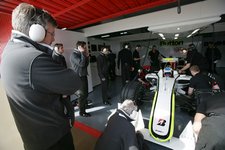 Brawn GP unfazed by hype as clock ticks down to Melbourne
Rubens Barrichello says that Brawn GP are keeping their feet on the ground ahead of Sunday's season-opening Australian Grand Prix despite being many people's favourite to win the race.
Although Ross Brawn's newly formed team were unable to carry out a full winter testing programme, their new car, the BGP001, hit the track with the best part of fifteen months of development behind it after Honda Racing abandoned last year's car at the beginning of the season.
The head start in development quickly translated onto the timing sheets as Barrichello and teammate Jenson Button set a searing pace at the final pre-season tests in Spain.
And now their rivals are tipping them to dominate the first race of the season in Melbourne.
"It is no accident that their new car is absurdly superior," Williams team boss Sir Frank Williams said today, "they are making the rest of us look like amateurs."
"In Australia they will disappear on the basis of what we have seen in testing. I just hope we can be up there, too," he added.
However, Brawn GP are refusing to get swept along by the hype and Rubens Barrichello says that the outcome of Sunday's Australian Grand Prix is still wide open.
"We have only six days of testing behind us, so every prediction is a gamble," Barrichello told Gazzetta dello Sport. "We keep our feet on the ground, even though we know we have a quick and reliable car."
"So Melbourne could spring a surprise. We are the team that has shone most in testing, and I've come here with great confidence."
Speaking about the huge strides that the team have made in the last year Barrichello added: "The last two seasons were very disappointing, it looked like there was no limit to the worst."
""At the end of 2005 I left Ferrari to find a team with whom to fight for the championship without someone always telling me what to do, when I could win and when I couldn't.
"But up until now I've never had a good car to go for it: the Honda from the last two years was almost an insult.
"Now I have a truly competitive car, in a small yet high-quality team. We've spent four months at home to make developments, we knew where to change and what to fix. Now it's the right time to take it to the track and win. I can do it."
Diffuser row rumbles on
Brawn GP's focussed approach to the first race of the new season could be tested as early as Thursday as a row looms over the team's diffuser, the rear part of the car's floor under the rear wing [see HERE].
Along with Williams and Toyota, Brawn GP's rivals have accused them of running a diffuser which exceeds the maximum height of the structure.
Red Bull Racing are expected to lodge a formal protest to the race stewards should those three teams' diffusers be declared legal by the FIA when the governing body checks the cars on Thursday.
"To be honest we were surprised that it even turned into an issue because for us it was very clearly inside the regulations," Williams Technical Director Michael is quoted as saying by autosport.
"It was something that in various forms teams have been doing for two years, so it wasn t really a big issue for us or the FIA. So it was something that we clarified with the FIA well over a year ago.
"There wasn t really any confusion from our side, although there appeared to be some confusion from the other teams, but I don t know on what basis that was."