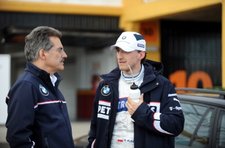 The BMW Sauber F1 team has thanked Robert Kubica for his services over the last three years after agreeing to terminate his contract early to allow him to join the Renault team in 2010.
Fernando Alonso's move to Ferrari next year paved the way for Kubica to make the switch to the French team, amid ongoing uncertainty about the future of his current team BMW.
Kubica made his debut with BMW Sauber in 2006 at the Hungarian Grand Prix, going on to secure the team's maiden victory in 2008 and mounting a serious assault on the world championship.
Team boss Mario Theissen paid tribute to the Pole: "Robert played an important role for us – and certainly we did the same for him."
"He joined us in 2006 as a test driver with no Formula 1 experience, and then we promoted him to be one of our team's drivers during that season.
"He never let us down and, with our first pole position in 2008 in Bahrain and first victory the same year in Canada, he set milestones in the history of our team. We are grateful for his strong and constant performances and wish him all the best for his future."
Kubica thanked the team for giving him the opportunity to compete in Formula One.
"I'm very thankful to those responsible in the BMW Sauber F1 Team for giving me the chance to get a Formula 1 cockpit," he said.
"I think I justified the belief in me by delivering good results. In 2008 I managed to get the first pole position in Bahrain and the first win in Canada. Both will remain unforgettable moments for me.
"For 2010 I will have a new challenge. I wish everybody I worked with at the BMW Sauber F1 Team all the best for the future. I'm sure in the future our paths will cross in Formula 1."