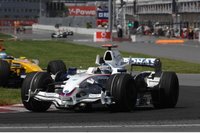 Doing what he has threatened to do all season, Robert Kubica climbed up on to the top step of the podium for the first time in his career in Montreal, leading BMW Sauber to their first 1-2 in their brief history as a constructor.
The man who Lewis Hamilton singled out as his greatest threat even before the season had begun, was delighted with his maiden win.
"I'm very happy at having won the first race for the BMW Sauber F1 Team," enthused Kubica after the race. "I'm also happy for Poland and all my fans. It all worked out and I'm just happy!"
Despite ruling himself out of the title race only a week ago, Kubica now finds himself leading the drivers' championship four points clear of his close friend Lewis Hamilton after notching up three podiums, two fourth places, and now a win.
The Polish driver even had a special word of thanks for his former F3 rival after the McLaren driver avoided him at the pit-stop fiasco and ploughed into the back of Kimi Raikkonen.
"When the pitlane was open, almost everybody pitted together," explained the 23-year-old. "I stopped at the exit because the light was still red. Kimi stopped beside me, and then I heard the noise when Hamilton crashed into his car. I have to be grateful to Lewis as he chose Kimi and not myself."
Nick Heidfeld who followed Kubica home to BMW Sauber's first 1-2 finish, was similarly pleased the result though he admits it was a struggle to keep up with his Polish team-mate on his one-stop strategy.
"I stayed out when most of the other cars pitted because I was on a long stint," explained the German. "I was pushing very hard at that stage. We then decided to switch to a one stop strategy, with a very high fuel load and with the soft option tyres which was a challenge."
"However, I was able to keep Fernando Alonso behind me. After his second pit stop Robert stayed ahead so I secured second place. Finishing second after starting from eighth is a great result, especially considering the difficult time I have had recently."
BMW Sauber's management were lost for words after Kubica lead home their first victory and 1-2 finish in just over two years in competition as a constructor.
"It is fantastic, I am overwhelmed," wallowed Mario Theissen, BMW Motorsport Director. "It is difficult to find the right words. Today just everything worked well. We hoped for another podium here in Montreal, but would not have dreamed to get a one-two victory."
"Congratulations to Robert and Nick and to the entire team at home in Munich and Hinwil. Today we achieved a milestone. Both drivers worked with no errors and the strategies paid off. I think we will have to celebrate a lot today."
"What a day! I just can't put my feelings into words after that race," added Willy Rampf, BMW's Technical Director. "Both drivers and the entire crew did a perfect job today. Robert had lost time when he was stuck behind slower cars after the Safety Car period, but in a fantastic sprint he made up for it and secured himself the race win. For Nick today was ideal."
"We shouldn't forget he started eighth. At certain times in the race he was the fastest man on track. When we switched him to a one-stop strategy we took pretty much of a risk, especially with regards to the tyres because Nick had to drive with the softer option for a very long time. Today everything paid off – decisions on the day as well as all the work done over the last two and half years."