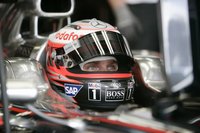 Heikki Kovalainen signalled his intention to challenge for pole-position once again after going quickest in pre-qualifying warm up for the German Grand Prix.
The Finn, who obliterated the field in qualifying at Silverstone only to struggle with his tyres in the wet race, lapped the 4.574km Hockenheim circuit in 1:15.621 as the drivers bolted on the soft tyre compounds in the dying minutes to prepare for this afternoon's all-crucial knock-out sessions.
Felipe Massa was the meat in a McLaren sandwich pacing a mere seven hundredths of a second behind Kovalainen and two tenths clear of Lewis Hamilton in third.
The track was dry for the entirety of the session, but heavy morning showers, which just skirted north of the circuit, confirmed the paddock consensus that rain will interfere with proceedings at some point today.
Nico Rosberg, Lewis Hamilton and then Sebastian Vettel all vied for the top spot in the opening fifteen minutes before Heikki Kovalainen laid down a benchmark time of 1:16.219. The Finn improved by a couple of tenths of a second before posting a 1:15.858 on the harder option tyre, with twenty minutes to go.
Felipe Massa quashed any theories that this weekend was going to be a McLaren whitewash after he vaulted to the top of the timesheets with a 1:15.693, also on hard tyres, shortly afterwards.
The final ten minutes of the session saw a familiar flurry of activity as the drivers ran qualifying simulations on soft tyres. Kovalainen managed to eclipse Massa's fastest time, while team-mate Hamilton managed wound up a couple of tenths slower after running wide and dashing across the tarmac at the final corner on his flying lap.
A late effort from Fernando Alonso saw the Spaniard catapult up to fourth place ahead of Sebastian Vettel, who has lapped impressively throughout the opening practice sessions.
Jarno Trulli spent most of the session in the mid-field but a late dash in qualifying trim vaulted the Italian veteran into sixth place, ahead of Nelson Piquet and Mark Webber.
A big slide coming into the stadium section scuppered Kimi Raikkonen's flying lap on soft tyres. The Finn wound up ninth after posting a time of 1:17.803, seven tenths of a second slower than pace-setter Kovalainen, and whisker ahead of Nico Rosberg who rounds out the top ten.