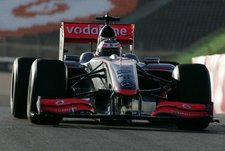 Heikki Kovalainen has said that his McLaren Mercedes team are almost certain to use their Kinetic Energy Recovery System at the first race in Melbourne in just over three weeks' time.
The technology, which allows energy stored under braking to be re-used, is thought by many teams to be unreliable and potentially risky but according to Kovalainen McLaren have minimised the risk and will use it in Australia.
"I am 99 percent sure. I think we are now at a stage where we can run it all day, reliably, and at the maximum power. So unless something goes dramatically wrong, I don't see any reason why we shouldn't run it in Melbourne," the Finn is quoted as saying by motorsport website gpupdate.net.
The system could theoretically provide a significant performance advantage to McLaren, but most teams have announced their reluctance to run it at the first race. Toyota, Red Bull and Williams have already signalled that they will not use the technology, citing the potential reliability issues. Reliability is likely to be key to success in the upcoming season, given a reduced testing window and sweeping regulatory changes.
Kovalainen insinuated that teams could be bluffing about their willingness to use KERS, however.
"Hopefully, other people don't get it and we get it, but there are other good teams around and I wouldn't underestimate anyone, so I wouldn't be surprised if many of the other teams had it as well."