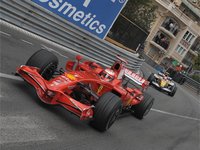 Kimi Raikkonen has apologised to Adrian Sutil after ruining the German's dazzling race and throwing his own championship lead out of the pram in Monaco.
The Ferrari driver ploughed into the back of Sutil just after the second restart of the Monaco Grand Prix; the Force India driver at this point running in a superb fourth place having fuelled his car to the brim and steering clear of the chaos in the opening laps.
Raikkonen lost control coming out of the tunnel, the fastest section of the track, his F2008 snapping away from him under braking from 180mph, sending him careering into the back of Sutil, despite his best efforts to correct the car.
Although Ferrari managed to repair the front nose cone – the second time they had to do so, the Finn having made an excursion into the tyre wall at Saint Devote earlier in the race – Raikkonen was sent to the back of a bunched field, unable to score any points. Sutil's car, ironically, was beyond repair and the German, who was heading to his best career points finish, was understandably devastated.
"I am sorry for Sutil, who I hit with just a few laps to go," said Raikkonen after the race. "I lost control of the car under braking coming out of the tunnel and I could do nothing to avoid him. It's a shame how things went today, as we had the potential to do well."
The incident marked the end of an eventful race for Raikkonen. The Ferrari driver was given a drive-through penalty because his mechanics had failed to fit his wheels to the car before the three minute cut-off point ahead of the race start.
The Finn also struggled with his tyres in the race, and over-cooked it into Saint Devote, damaging his front-wing, while hunting down team-mate Felipe Massa.
"A very poor race for me, right from the off. There was a problem with a wheel before the start and we broke the rules, which meant I was given a drive-through penalty."
"During the race, my main problem was trying to get the tyres to work as well as possible. Then we decided to change the strategy as we expected it to rain again, but it didn't happen."
"Twice I had to change the nose after breaking the front wing. So, as you can see, a long run of things going wrong which explains the 0 points."
Raikkonen had qualified strongly in second place and was expecting to extend his lead in the championship. He now faces a three-point deficit to Lewis Hamilton as a result of his Monaco no-show.
"It's true that I've lost the championship lead, but I always said the championship would be a very long one. Now we must prepare as well as possible for Canada where we will try to make up for this disappointment."