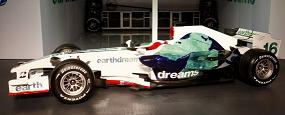 The Honda Racing F1 team official launched their 2008 car, the RA108, at their headquarters in Brackley this morning.
The RA108 was first seen shaking down at Valencia last week, although it was sporting a white interim livery. The car will be driven for the third season by Jenson Button and Rubens Barrichello and the team are hoping that this continuity will help them achieve better results this season.
The new livery sees the introduction of the team s earthdreams programme, a concept launched in 2007 which sees the Honda team helping provide support and investment for good causes through an unusual marketing initiative. $1.2 million has already been committed to the project, with $700,000 already allocated. Donations from the website totalled over $196,000 and an independent Advisory Board has split these donations between two international causes the Marine Stewardship Council and the Forest Stewardship Council.
Honda s RA108 is significantly different from the 2007 car and Ross Brawn is hoping that it will be a lot more successful than it s predecessor. "The RA108 is a wholly different concept to its predecessors in terms of its aerodynamic layout and mechanical structure," Brawn explained.
"The focus has been on attaining a high level of aerodynamic efficiency with stability and this is reflected in the way that the chassis has been revised to interact with the different aerodynamic features and the suspension. This approach should allow more potential for further development to take place, the first of which will be for Melbourne when we will introduce a substantially revised aerodynamic package compared with the car we have launched today."
CEO Nick Fry is also positive about the team s future. "Following a year where we failed to live up to our own expectations, the team has made a number of key appointments in the second half of 2007 to strengthen our existing resource as well as bringing on board new knowledge and different experience," he explained. "In particular, the arrival of Ross in the position of Team Principal has brought new impetus and confidence to the whole organisation.
"This time last year saw the beginning of a downward curve for us and there is a determined sense that this year we are back on track We have done everything possible to honestly address the issues, which we have to view as valuable experiences which have helped to put us in better shaped for this year and for the years ahead. Every area, from technical and aerodynamics to marketing, has been strengthened with world class resource. The disappointments of 2007 power out desire to do well in 2008."