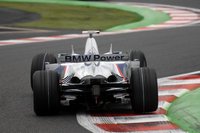 Nick Heidfeld went quickest in the final practice session ahead of qualifying at Spa-Francorchamps.
A late dash from the BMW Sauber driver saw him edge out McLaren's Heikki Kovalainen with a 1:47.876 ahead of Fernando Alonso and Lewis Hamilton in third and fourth.
Friday's pace-setter Felipe Massa was fifth fastest with his under pressure team-mate Kimi Raikkonen lining up in seventh behind Sebastian Vettel.
Although the session began with a dry racing line, heavy overnight rain had washed away most of the rubber laid down on Friday, and this coupled with low track temperatures meant the drivers were battling with low grip levels.
Light rain midway through the session made the track conditions worse, but the showers soon swept away from the track as the drivers made their runs in qualifying trim.
It was a full half an hour before either a Ferrari or McLaren appeared on the track with Timo Glock emerging as the early pace-setter on a 1:50.530.
Kimi Raikkonen was the first of the front-runners to hit the track and he and slotted in sixth place, but not before tripping up on a pool of water at La Source and running wide.
Lewis Hamilton emerged from the pits with just over ten minutes to go and went quickest on the soft tyres with a 1:48.356, but a wild moment at Les Combes almost put him out of the session as he ran over the kerbing and across the gravel.
An improvement from team-mate Heikki Kovalainen, coupled with late runs from Nick Heidfeld and Fernando Alonso in the dying minutes dropped the British ace to fourth at the close.
Toro Rosso's Sebastian Vettel split the Ferraris with sixth place while Nico Rosberg and Nelson Piquet, who had vied for the top spot in the early part of the session, dropped to eighth and ninth.
Mark Webber completes the top ten for Red Bull Racing.