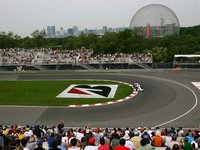 Drivers will meet with a resurfaced hairpin when the lights go out for the 70-lap Canadian Grand Prix today, but Kimi Raikkonen is less than impressed.
A deteriorating track surface – which became prevalent towards the end of Q2 as a result of high temperatures and the absence of traction control – hampered several drivers on their qualifying runs, most notably Mark Webber, who spun off the track moments after storming into the top ten shoot out. Ferrari's of Kimi Raikkonen and Felipe Massa also fell victim to the breaking track (see separate story HERE).
Turn 10, the hairpin leading on to the long 300km/h back straight, was one of the hardest hit corners. Following discussions between track bosses and FIA race director Charlie Whiting, it was agreed that the hairpin would be resurfaced to prevent further problems during the race.
Francois Dumontier, executive vice president of the Canadian GP, who oversaw a multi million dollar resurfacing of the track ahead of the grand prix, admits that the impact of the traction-control less cars this year was much greater than expected.
"This year we chose a new specialist to settle the issue, but obviously conditions related to the technological evolution of the race cars do create some problems," he said after qualifying. "Aggressive adhesion of grooved tyres, removal of traction control systems and the actual physical configuration of the hairpin corner itself could all be probable causes for this situation."
"We will correct this problem as soon as the last car leaves the track today, and everything will be rectified for tomorrow's races," he added.
Kimi Raikkonen however has brandished the situation as a "joke", warning that the race on Sunday could turn into a nightmare.
"The car has been good all weekend, and was even very good this morning, then you go into qualifying and it is quite a joke with the circuit," bemoaned the Finn.
"We will see how it is in the race but it is going to be a nightmare. We have more than 70 laps to do and the track surface broke up after two laps in qualifying – it will be interesting."
The Ferrari ace pointed to the fact that the asphalt breaks up in predictable places each year at the Circuit de Gilles Villeneuve, adding that little seems to have been done to rectify the issue.
"The problem is the black patches… it's re-done every year and then it breaks up again," he said.
"It's been the same for the past three or four years. It always seem to break down and they always say they will fix it – maybe they need to send some people from somewhere else to fix it."