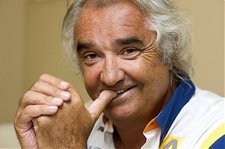 Renault boss Flavio Briatore was delighted with Fernando Alonso's charge to victory in Japan and was quick to praise under pressure driver Nelson Piquet, the Brazilian's performance
suggesting that there is still hope for him at the Enstone squad next year.
Briatore announced last week that he would be taking a less hands-on role as the Renault team is restructured, making way for a new 'director' responsible for the day-to-day running of the team.
Fernando Alonso's victory in Fuji underlines the step forward in performance that Renault have made to the R28 over the course of the season and will help to justify further investment in the re-structured outfit at a time when the French manufacture faces increasing uncertainty admidst falling sales and share prices.
"I am very happy as this is a superb result for the team, Fernando, Nelson and Renault," Briatore said after the Renault's Japanse success.
"The victory is well deserved: Fernando and Nelson had great drives, our strategy worked wonderfully and after our difficult start to the season I want to thank all the members of the team for their efforts. We had said that we could come back to the top and we confirmed that here today."
Pat Symonds, Renault's Executive Director of Engineering added: "Winning the last race was very welcome, but it's much more satisfying to win here in two ways: firstly it was a more straightforward race that showed our true capability, and secondly because both cars achieved a good result today. Congratulations to the team and to both our drivers."
Fernando Alonso meanwhile was delighted to have won his second consecutive race this season in Japan.
"It's still difficult to believe what we have done today! Winning in Singapore was unexpected, but we benefited from special conditions."
"Today we won again on a circuit that was not supposed to suit us. The team has really done a remarkable job to fight back this season and we are now the third strongest team. It's unbelievable and I am extremely happy this evening."
Nelson Piquet also took advantage of the startline chaos caused by Lewis Hamilton's aggressive move on Kimi Raikkonen and found himself leading the race at one point as a result of his one stop strategy.
A searing pace around the Fuji International Circuit kept in touch with the leaders and he took the chequered flag in fourth place, one of the best results this season.
"I am very happy with this great result for the team. I had a bit of luck at the start, but after that the car handled really well, I was on the pace, and I just had to remain concentrated and keep pushing. The team is having a really strong end to the season and I hope that is going to continue."