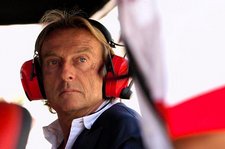 Ferrari boss Luca Di Montezemolo is under no allusions that last year's title battle with McLaren has put his team on the back foot in 2009, but he is confident the Scuderia will bounce back soon.
Ferrari had a disastrous start to the new season on Sunday with both their drivers failing to finish the Australian Grand Prix.
Felipe Massa retired from the race with a mechanical problem while Kimi Raikkonen dropped his car into the wall in the closing laps.
Di Montezemolo brushed off the result as a "strange" race and said he expects the team to fair better in Malaysia this weekend.
"I expect to see the real strengths of the teams on a less strange circuit than Melbourne, as is the Malaysian track," the Italian told the Gazzetta dello Sport.
"I think the first race has gone a lot worse than what we and I had expected."
Ferrari were forced to develop last year's car deep into the season as they battled with McLaren for the championship. Di Montezemolo says this is the main reason his team are so far behind.
"There's no doubt we're paying the price for the 2008 championship, which ended at the last turn of the last lap of the last race," he said.
"We, like McLaren, had to develop the car to the end, while the others were already able, for several months, to work on a completely new project. Let's not forget that this year's car isn't an evolution. So, those who had the time has been able to gain an even bigger advantage."
"I think we made a few mistakes too many in Australia, and most of all I expect to see the real strengths of the teams in Malaysia. I'm convinced, in fact I'm totally sure, that there will be a strong reaction, even though the cars are the same."