The latest rumours link him to Renault and before that a BMW test role was on the cards. Then, a few years ago, there was the McLaren prize drive that never was…
Briton's Anthony Davidson has grown used to the conjecture and hearsay of motorsport's premier rumour mill, but the idea that he would have done anything other than race with Super Aguri in 2008 is ludicrous, as Forumula1.com's Chris Hayes found out.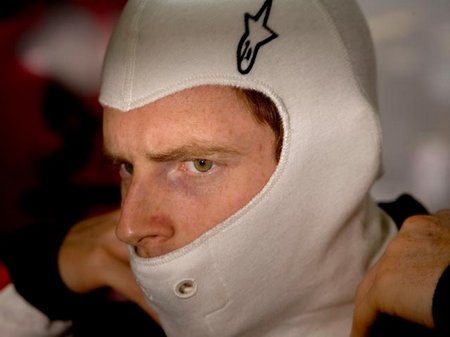 By Christopher Hayes
Last year's incident-packed Canadian Grand Prix pretty much tells you all you need to know about Anthony Davidson: blindingly quick, a racer through-and-through, but incredibly unlucky. 'Overlooked' is something you might also throw into the mix. For while the legendary Circuit de Gilles Villeneuve played host to that move from Takuma Sato hailed by petrol heads as the best overtake of 2007 Davidson in the sister Super Aguri was left ruing what might have been after an equally impressive charge. Having kept his head through the chaos of two safety car periods the Briton found himself sitting pretty in third place on a one-stop fuel load. His best career finish, not to mention a potential podium, was within touching distance. Then, a beaver scuttled onto the track.
The poor marmot had Davidson's name well and truly implanted on it and the unscheduled pit stop that the British driver was forced to make as a result of nailing it head on dropped him to eleventh at the chequered flag. The 28-year-old was left to lick his wounds while the rest of the world attended to Lewis Hamilton's first career victory and Sato's breathtaking move on Fernando Alonso.
At the time, the incident was the butt of jokes and provided a light-hearted moment to an otherwise dramatic grand prix. But perhaps if Super Aguri had known of the financial and political struggles that would hit them the following year, a podium at most and a strong points finish at the very least, might have given new meaning to the events. The financial reward alone from such a result might have provided a sound basis for further success. And you only have to look at the publicity that Sato received to see the good it would have done for Davidson's profile.
Indeed, the chaos of Canada aside, both Super Aguri drivers spent most of 2007 locked in a battle at the rear of the grid and struggled to show their full talent.
"It was frustrating to be at the back of grid," says Davidson. "We were in what we had and your views change given the equipment it (car performance) is all relative. I just hope people were looking that far down the grid to see what I was doing, because some of my races were very strong."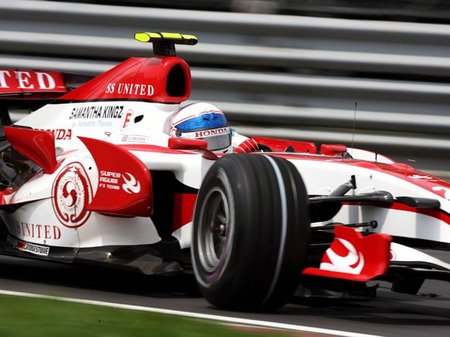 Anthony Davidson at the Canadian Grand Prix 2007 – before he encountered the local wildlife.
So great is Davidson's hunger for competition in Formula One that when it came to choosing between a race seat with a struggling but feisty minnow and
offers to drive more competitive machinery elsewhere, there was never going to be any contest. Even if the BMW test drive rumour was true, would he have taken it? No chance.
"I don't actually know where that came from," he says dismissing the rumour. "That was just one of those things that seem to pop up and no I have never had discussions with them about that. So that was quite funny to see that pop up, one of those rumours that start from nowhere."
"But on a serious note I did turn down many things at the start of the year. I had many offers which I decided to turn down because I knew we were all going to get a chance to go to Australia with the view to doing the whole season. It's just something you have to do. You have to do it, you have to take the chance to go racing in Formula One. And actually now I can look back and think that was the right thing to do."
That said, squabbling at the rear of the pack was hardly what Davidson envisaged when he signed a long term testing deal with the up-and-coming BAR team in 2000. Indeed, the deal turned out to be something of a mixed blessing. It allowed Davidson to showcase his talent in front of F1's power houses, particularly in 2004 when new rules allowed teams to field a third car in Friday warm up. But his close contractual relationship with the Brackley-based outfit would also limit his options and prevent him from bagging a race seat with a front-running team.
Just before signing with the British team he won the much coveted Autosport McLaren Young Driver of the Year Award having impressed the Woking-based outfit with his results in Karting and Formula Ford. But his deal with BAR meant he never got round to taking up his prize: a test drive in then McLaren MP4-15. Ironically, his karting counterpart Jenson Button who won the award in 1998, did take up his prize, and he eventually went on to race with BAR.
Four years later and Davidson's relationship with the team would again limit his options, this time with Williams who, along with several other teams, had been impressed by the BAR driver's performances in Friday testing and were eager to recruit his services for 2005. The deal fell through however as Frank Williams would not agree to the unconditional 'repatriation' of Davidson back to BAR in 2006.
It's just something you have to do. You have to do it, you have to take the chance to go racing in Formula One.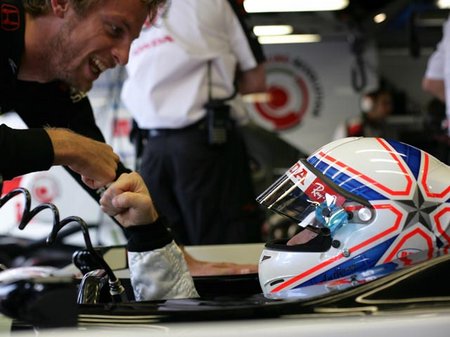 Davidson's career ran parallel with that of his close friend and rival Jenson Button
Despite filling in for an unwell Sato at the Malaysian Grand Prix in 2005, it would be a further two years before Davidson would get to compete in his first full season of Formula One with Super Aguri, a team set up specifically to cater for Sato who left Honda at the end of 2006 to make way for Rubens Barrichello.
The rest as they say is history. Despite some impressive performances last year in inferior machinery, Super Aguri's withdrawal from the Formula One championship meant that Davidson once again lucked out of a permanent race seat. Despite everything that has gone on though, he remains philosophical about his situation. He has no regrets about the past or his decision to start the year with Super Aguri.
"Even though I'm sitting here now, I'm still happy I did those first couple of races where I was able to again show my speed and improve on what I learnt from last season." He laughs off the prospect of taking up his prize test drive with McLaren now that he's free to do so: "Its going to be a bit late now isn't it for me to turn round to Ron and say 'hey how about that prize award?'". In any case, there is only one thing that Davidson wants to do at the moment, and that's race, in Formula One.
"I feel I belong there," he says. "I feel I've done enough to have a proper go at it and I think I was only scratching the surface in what I can do. So yeah hopefully I will be back there next season showing what I can do." We sense that he won't settle for anything else.