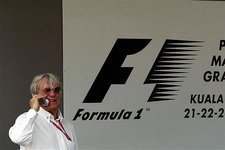 FOM Chairman and commercial rights holder Bernie Ecclestone has reportedly defused a threat made by Ron Dennis and Flavio Briatore to boycott the opening race of the season in Australia.
The McLaren Chairman and the Renault team principal are said to have been incensed by Ecclestone's refusal to pay them some money he allegedly owes them, but Ecclestone is believed to have called the two bosses' bluff by effectively telling them to go ahead and do it.
The Times reports that the two threatened Ecclestone with the boycott and promised the remainder of the teams would back them up. They are thought to have told the F1 supremo that they would not send their cars to Melbourne unless he paid them the alleged debt.
"Flavio said, we re not going to put our cars on the plane, we re not going to Melbourne, " Ecclestone is quoted in the Times as saying.
But the FOM chairman was quick to respond and dare the two to fulfil the threat.
"I picked up the phone to our people that handle all the freight to ask them to cancel the aeroplanes," the billionaire said. "They were saying, all the Fota-schmota are not going — nobody s going to go. So I said what I d better do is cancel the aircraft obviously. It costs a fortune to charter those things and almost as much to cancel them."
Ecclestone's daring move – which could have seen the start of the F1 season ruined – did not backfire, however, as apparently Dennis and Briatore were unwilling to be the cause of the aircraft cancellation. The story is yet more evidence of the power – and confidence – with which Ecclestone manages the sport.