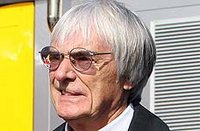 Bernie Ecclestone has said that the number of races on the 2009 F1 calendar is about right, despite pushing for 20 races on the calendar earlier in the year.
"No more races," Ecclestone told Bloomberg. "We don t want any more! We have too many races we have to lose some."
It appears that Ecclestone has switched his focus from cramming more races into the Formula 1 calendar to night racing following the success of first ever night race in Singapore last month. Ecclestone has already revealed that he would like Malaysia to become a night race along with Japan, with countries who are hoping to host races such as India and South Korea also possibly heading for night racing.
Even though their time zone does not demand a night race, Abu Dhabi race bosses are seriously considering running their race at night under floodlights after the positive reaction to the Singapore Grand Prix. Although they have yet to confirm what time they are planning the race start to be, bosses have confirmed that night racing is definitely a possibility.