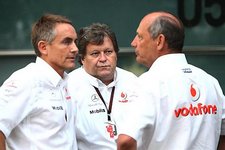 As the dust settled around Albert Park following Saturday's qualifying session, many observers reeled from the sheer magnitude of the shock results.
Neither Renault or McLaren managed to get either of their cars into the top 10, and the great Prancing Horse was more of a seaside pony. Brawn GP comprehensively outpaced everyone else; the young guns Vettel, Kubica and Rosberg their only competition.
Speculation and rumour had been going round for months that the new aerodynamic regulations could result in some new names at the front, but as recently as January this year no-one could have predicted this outcome at the first qualifying session. A mere five weeks ago what was left of Honda had no buyer, and the future looked very grim. But the resilience and hard work of the Brackley-based squad over the last two years has paid off – the pleasure of seeing their car's name at the front of the grid, whatever tomorrow may bring.
But can Brawn win the race? At a conservative estimate, with fuel loads factored in, they have about a third of a second per lap over the rest of the field. With that kind of advantage they are expected to scamper away, with the possibility of unreliability the only threat. From the others, Vettel and Kubica might be in with a shout. Kubica's performance is especially remarkable considering he was not carrying KERS.
In many ways the most interesting battle tomorrow could be in the midfield. It will be very interesting to see Alonso, Raikkonen and Hamilton in close combat with each other and the mere mid-pack mortals. Felipe Massa too is undistinguished in dogfights, but his relatively high grid position (7th) could be a springboard if his race pace is superior to his qualifying.
Kazuki Nakajima will be disappointed not to have made the top ten, on the grounds that in his team-mate's hands the Williams was 5th. Equally, Nick Heidfeld's 11th will be considered an opportunity missed. Finally, Nelson Piquet Jr's failure to make Quali 2 will be a source of frustration to him and to his bosses.