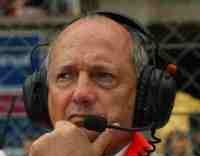 Ron Dennis has defended his McLaren team after speculation continues that the MP4-24 package is seriously underperforming.
The chairman of the McLaren Group insisted that everything at the race team was under control, despite the MP4-24 being bottom of the testing timesheets on more than one occasion this week. A new aerodynamic arrangement is thought to be the source of the problems, but Dennis insisted this was not the case.
'We had a strategy for this year to leave it to the last possible moment to produce our aerodynamic package for the Australian Grand Prix," the 61-year-old told the BBC.
"That in itself gave us some production challenges, and we have really only started to run the car in the last day with the Australian aero package. It doesn't mean you are lost or that you don't know what you are doing."
Dennis also dismissed the relevance of testing to overall pace, and claimed that McLaren had a grand plan which would come to fruition at the first race.
"The objective is to go to Australia and be the most competitive car there, not to come out of every single test at the top of the timesheets. Testing is about a disciplined approach to making the car go faster, and you have to ignore the performance of the other teams,´ he argued.
He also insisted the team would be in contention for the world championship, after true pace is revealed in Australia.
"When we get to Australia, that will be the first measurement of everyone's performance. We expect our car to go faster with every grand prix and we expect to maintain our pace to allow us to win the world championship."