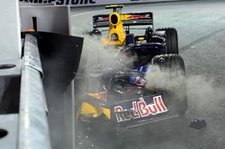 Formula One veteran David Coulthard has warned of an incident-packed weekend in Singapore as his peers gear up for what will be a critical qualifying session under the city's night sky.
Opening practice for the historic grand prix got underway in spectacular fashion on Friday. Some 1,600 lights illuminated the new street track as the full rip-roaring force of Formula One reverberated around Singapore's sprawling metropolis.
But as new and challenging as the track may be, the drivers were not about to adopt caution and prudence into their vocabulary this late into the season, and a few were caught out by the nuances of the bumpy 23-corner street circuit.
Red Bull Racing's Mark Webber was the first to fall foul of the Singapore armco after he over-cooked it into the chicane at Turn 18. A rather sheepish Webber looked on as his mechanics repaired his stricken RB4 and he rejoined the second practice session with 25 minutes remaining.
The Aussie wasn't the only driver to feel the wrath of the city's streets. Timo Glock wrote of his Toyota after dropping it into the wall at Turn 7, while several drivers had moments at the final corner leading onto the pit straight.
"It s like the cobbled streets of Paris and very unforgiving, I think there will be a lot of incidents during the race," warned Coulthard.
"Unlike Valencia, which was a smooth circuit with very good kerbs, the kerbs here are very aggressive, especially at Turn Ten."
"We ve already seen a few people having incidents this morning and I think we ll see more of the same story during the weekend."
After the opening day of running several drivers expressed their concern to race director Charlie Whiting about the lighting (in places), bumps and the pitlane entry and exit.
It is expected that modifications will be made to the pitlane entry and exit which are both on the racing line. The Turn 10 chicane, which has already received scrutiny for its high bumps on the kerbs, may also be amended.