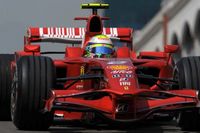 Anthony Davidson, formerly an F1 driver for Super Aguri, has blasted Ferrari s Felipe Massa s performance at the weekend. The Brit has said that Massa is always one of the first to point fingers when one of the slower drivers makes an error, however he did exactly the thing during the British Grand Prix.
Massa had a dismal race at Silverstone, spinning five times during the race and finishing two laps down in last place. Massa also appeared to infuriate some of the drivers by not getting out of the way quickly enough when blue flags were waved at him.
"He is always the first to stand up in a drivers meeting and complain about what people like me are doing when we get lapped," Davidson said. "That s what you get, mate. There s a bit of blue flag action for you.
"You re rubbish you re useless at it!"