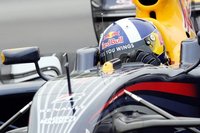 David Coulthard has revealed that when he retires from Formula One, he will be hanging up his racing boots with no intentions of racing in another series.
""I have no intention of racing anything else," Coulthard explained. "The only reason I said I haven't hung up my helmet, is because in six months or one year, if there is an opportunity to race something that I think could be interesting, then everybody will say he is coming out of retirement.
"I am retiring from Formula 1. After 15 years racing in it, I recognise that it is the right time to stop racing in F1. I am going to continue to help Red Bull progress as a team. My helmet will be put to one side, but it will still come out to test, I will still keep fit and I will still be active on that side.
"But I have no conversations with anyone about racing anything next year. But at some point maybe I will, but today it is not part of my thoughts.
"To think about racing something else while I am still racing in F1 just seems ridiculous. I've told everyone my intentions for next year to stop the rumour, stop the speculation and allow the team to plan ahead. It was the right thing to do, but I'm not going MotoGP or truck racing or something!
"When you make a decision, you look at the opportunities and you look at the options. The worst thing in life is to make a decision and change your mind.
"I have made a decision – I will stop at the end of the season and nothing will change my mind because there is no reason to change my mind. The reason I decided to finish this year is that I'll be 38 next year, I'll have done 15 seasons,
"I'm not likely to win a world championship at this stage. There are other things I can do with my life. You don't have to be a Grand Prix driver to be happy – I was happy before I was in F1. The only difference is that when you are in F1 you get paid a lot of money to do what you were doing before, for no money. I have had a great career and I am very happy with that."