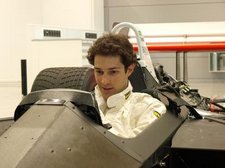 Bruno Senna Press office:
Motor racing star Bruno Senna will be appearing at the Goodwood Festival of Speed this weekend where he will be driving his late uncle s legendary McLaren Honda MP4/4.
Bruno has been invited by Mclaren Racing to drive the Mclaren Honda MP4/4 at Goodwood during the first two days of the festival, allowing fans the opportunity to see at close quarters the Formula One car which dominated the 1988 season in the hands of Alain Prost and Bruno's uncle, the late Ayrton Senna. Together they won all but one race in that year's championship.
The car that Bruno will drive is a part of the Mclaren Collection which is displayed at the McLaren Technology Centre in Woking, and last week Bruno visited the factory to be fitted into the car by some of the mechanics who worked with Ayrton in that Championship winning year.
Speaking ahead of this weekend s festival, Bruno said: "Driving this hugely powerful turbo engined 'monster' will be a great experience for me on one of my weekends off from my Le Mans Series programme. It is hugely motivating to drive such an historic car and especially to be trusted by the same people that ran Ayrton to all those victories back in the 80's."
Bruno continued: "An F1 car from this era is not too similar to a current F1 car, and Goodwood is not exactly a Grand Prix venue either, but I am sure this fun weekend will only serve to wet my appetite again for F1.