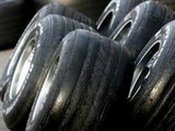 Bridgestone Motorsport heads to the new destination of Singapore and sees the first ever Grand Prix at night for the fifteenth round of the FIA Formula One World Championship, the Singtel Singapore Grand Prix.
For the event, Singapore has an all-new 5.067km street course which weaves its way through the Marina Bay area of the sovereign city state. This is the fifth and final time that Formula One takes to a street course this season and Bridgestone's soft and super soft tyres will be used there.
Singapore Tyre (Left) compare to normal tyreThe circuit will provide drivers with some exciting challenges. Slow, medium and high speed corners can all be found in the course of a lap, whilst the maximum speeds are predicted to be in the region of 300kph.
As if learning a new race circuit was not enough of a challenge, the Singapore Grand Prix will take place at night and this will be the first time in history that a Formula One race has not taken place in daylight. The circuit will be artificially lit, but nevertheless it will be a voyage into the unknown for the drivers. Bridgestone has applied extra reflective markings to the tyres to differentiate the two compounds of dry tyres and the two types of wet weather tyres, with both the super soft and extreme wet tyres being marked.
Hirohide Hamashima – Bridgestone Director of Motorsport Tyre Development, said:
What are the interesting aspects of the Singapore street course?
"The layout looks challenging and we have not seen any races on the circuit so teams will be relying solely on their simulations before cars take to the track. As with any street course, we expect finding grip to be the focus for many and the grip level to change over the weekend. The circuit layout looks interesting and this will be a very exciting, unique race track."
What special considerations are there for a night race?
"We have looked at many different aspects regarding a race taking place at night and we have no specific concerns. Bridgestone have good experience in endurance motor races which run at night so this has been useful. The temperatures will be cooler than during the day and there will be no heat generated from the sun's radiation, but we predict an ambient and track temperature of around 27 degrees Celsius, which is warmer than some tracks we visit during the day. Ultimately, the way the tyre works at night will be the same as it works during the day."
Stats & Facts
Number & Spec of tyres brought to Singapore 2,000 (wet/extreme wets and soft & super soft dry)