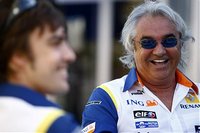 Flavio Briatore has revealed that as of next year, he will be taking on a revised role within the Renault team. Briatore has also said that he has earmarked an assistant who will help him run the Renault team during the 2009 season.
Briatore s contract with Renault runs out at the end of the year however he has so far not signed any contract extensions. Despite this, he has told Italian newspaper Gazzetta dello Sport that he will definitely still be with Renault next season albeit in a new role.
"Next year, I won t have a 360 degree role in the team any more. There will be a director, who I have already earmarked, to look after the day-to-day management. That way I will be able to concentrate on the most important matters."
Briatore is also confident that Alonso will remain and that the team can return to the top of F1 once more.
"The victory [at Singapore] has not changed anything. Fernando has not signed to anyone and I think is happy to stay, but we will see at the end of the championship. What can we offer him? An innovative team and a mix of cards that play in our favour.
"In F1 there are cycles. In difficult moments, Carlos Ghosn didn t want to lower our budget. F1 in not just about the money otherwise Toyota would will all the Grands Prix!
"At Renault, we have to renew the whole aerodynamics department. When you change 40 people, you must wait for them to gel. Now we are ready to start again. We have the right people and are young and capable.