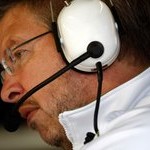 Brawn GP team principal Ross Brawn has revealed Honda Motor Company's "frustration" that they have not been part of this year's success for the team.
The parent company for the Brackley-based outfit withdrew from the sport in December 2008 in the context of a dismal two previous years on the track and the worst climate for the car industry in living memory.
But the huge investment the Japanese marque had made and the hard work done by the team itself had resulted in a very fast car before Honda's pull-out, which went on to win the first two races of the season in 2009. Cue rueful smiles from Brawn himself, and "frustration" for Honda.
"I'm sure they were very frustrated at having to withdraw," Brawn told the Bloomberg news agency.
"I've had many notes from senior people at Honda, so they are frustrated because obviously the team has moved forward, but it was a necessity for their business."
Brawn added an insight to the negotiations during which he and other management bought out the team, saying that Honda could not be convinced of the potential for 2009.
"They'd spent an awful lot of money, hadn't got anywhere and probably didn't realise the potential," he recalled.
"I'm sure if they had, they wouldn't have gone because all this would have been Honda otherwise."