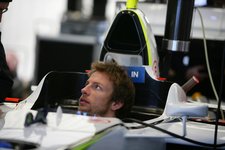 Jenson Button set the fastest time of all in the morning session at Barcelona this morning. The Englishman, driving the BGP 001 for his newly-formed Brawn GP team, acquitted the car very well in its first public testing appearance.
Button's fastest lap was 1:21.140, more than half a second faster than Toyota's Jarno Trulli, whose time was 1:21.85s.
Testing times are not a reliable indicator of overall competitiveness, but reliability can be judged to an extent. The new Brawn car, which had its shakedown at Silverstone last week, completed 30 trouble-free laps at the Circuit de Catalunya this morning.