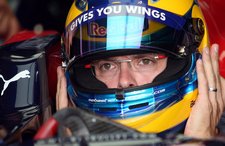 A furious Sébastien Bourdais has hit out at Felipe Massa accusing the Brazilian of reckless driving and showing a lack of constraint after the pair collided with each other during the Japanese Grand Prix.
The two drivers ran into each other on lap 51 of the incident-packed race when Bourdais rejoined the Fuji circuit after making his second pit stop, just as Massa turned into the first corner.
The Ferrari driver went around the outside of Bourdais leaving him little room to manoeuvre, and the pair made contact with Massa spinning off the track as a consequence.
The incident was investigated after the race and Bourdais was dealt a 25-second penalty which dropped him out of his points-paying sixth place to tenth, promoting Massa to seventh.
Massa maintains that he had already taken the corner when Bourdais hit him, but the Frenchman starkly disagreed.
"I did everything I could not to run into him," the Toro Rosso vented to Reuters. "He just squeezed and turned and behaved like I didn't exist, like I wasn't there. What am I supposed to do? I was coming out of the pits, he turned in, I was on the kerb and there was nowhere else I could go. I was racing him for position.
"For me it's very clear yes, I exit the pits, yes I'm supposed to be careful and I was. I stayed inside and I didn't push him out; I didn't overshoot the corner.
"I've been in this position many, many times and I never had any incidents. It's just a little bit of respect. You give each other room and then everything goes right but if you don't, there's going to be an incident."
Bourdais, who has won a record-braking four world championships in the American champ cars series, went on to lecture Massa on the importance of showing constraint when battling in the heat of a championship fight.
"Fighting for the championship you just don't take unnecessary risks like this," he said. "You've got everything to lose and nothing to gain. He was going to pit in three laps, I was ahead of him and he was going to finish behind us anyway. Why would you even think about doing something like that? I don't understand."
"It ruins the weekend, takes away three points for the team and gives Felipe another point I am really happy for him, obviously. It was a good showing today for me, running consistently in the top five with only one mistake in what was a tough race."
"I don't know what I was supposed to do basically. I could have unrolled the red carpet and given him the corner. That is the only thing I could have done."