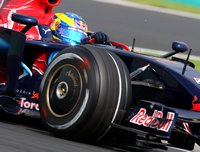 Sébastien Bourdais has been demoted five grid positions after Stewards judged that he impeded BMW Sauber's Nick Heidfeld in the opening knock-out qualifying session for Sunday's Hungarian Grand Prix.
Heidfeld's final flying lap, along with his hopes of making it into Q2, were written off when he closed up onto the gearbox of the Scuderia Toro Rosso driver on his final flying lap and ran wide on the final corner.
The German made his frustration clear as he waved angrily at the Frenchman down the start-finish straight. Heidfeld, who was forced to settle for sixteenth place is promoted to fifteenth place, which will no doubt be little consolation for the BMW Sauber driver, while Bourdais, who progressed to Q2 and qualified fourteenth, will start the race five spots lower in nineteenth.
"I'm totally disappointed, an angry Heidfeld reflected after qualifying. "It had looked quite good at the end of yesterday's practice and also this morning, but on my last lap in Q1 I had four cars in my way. Most of them at least tried to give me room, but it still cost me time.
"Towards the end of the lap I had one car in front which was on an 'out' lap. He saw me and accelerated. He then overtook Sébastien Bourdais before the last corner, and then Sébastien was right in my way. I was hoping it was so obvious he would be penalised right away and I could still get into Q2."
"Certainly Nick's result is disappointing," added BMW Motorsport Director Dr Mario Theissen. "He complained several times about traffic on his last – and important – fast lap and missed getting into Q2. We should be very happy if he scores a point from this grid position."
"For Nick it didn't go as expected," added the Munich and Hinwil-based concern's technical director Willy Rampf. "He reported traffic on his last lap. For him we are facing a very difficult race tomorrow, because overtaking is almost impossible at the Hungaroring."