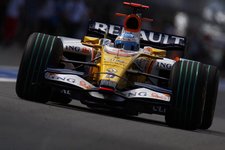 Fernando Alonso will remain at Renault for 2009 after the French team confirmed that the Spaniard had signed a two year extension contract.
The double world champion endured a trying start to his 2008 campaign and was widely believed to be leaving Renault to join either Ferrari or Honda.
But after a successful second half of the season, which saw Alonso clinch back-to-back victories in Singapore and Japan, staying at Renault remains the logical option for the Spaniard.
Renault also confirmed that Nelson Piquet will stay put for 2009 after signing a one year contract.
"We are happy to confirm both Fernando and Nelson for next season," commented Managing Director, Flavio Briatore. "This gives the ING Renault F1 Team one of the most exciting driver pairings with the perfect blend of youth and experience. Fernando's commitment for the next two seasons confirms the faith he has in the team and we are delighted to continue working with him."
"He has been a big asset throughout this difficult season and his leadership and talent, matched with the team's hard work and determination, have paid off with our recent performances, which have placed the ING Renault F1 Team back among the top competitors of Formula 1."
Fernando Alonso added: "I have decided to stay with the ING Renault F1 team because, as I have often repeated this season, they have always been my first choice and I feel very happy and comfortable with them. It's a very close-knit team with a competitive and winning mentality, and also a relaxed and warm attitude, which suits me perfectly."
"After a difficult start to the season, we have overcome our difficulties and constantly improved our performances," continued Fernando. "My back-to-back wins in Singapore and Japan, and my recent second place podium finish in Brazil, have proved how competitive we can be. In the past we have won championships together, as well as going through tough moments, but we are now determined to show that we can repeat that success together in the coming seasons."
Nelson Piquet added: "Obviously I am delighted to have the opportunity to race for the ING Renault F1 Team for a second year. Although I have had a tough year, I have learned a lot from my rookie season and I will aim to put that experience to good use next season. I want to thank the team for their support this year and for the trust they have shown in me for the future. I'm already excited about 2009 and looking forward to working with the team over the winter so that we can start next season strongly."