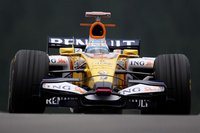 A late gamble to switch to wet tyres coupled with an uncompromising overtaking manoeuvre in the final corner vaulted Fernando Alonso into fourth place in Spa-Francorchamps, as Renault bid to home in on their championship rivals.
The double world champion, who has made clear his desire to switch to a championship contending team for 2009, underlined the improvements Renault have made in the latter part of the season by planting his R28 on the third row of the grid in Spa-Francorchamps for the Belgian Grand Prix.
And after storming past Robert Kubica and the Toro Rosso drivers in the final rain-hit laps to take fourth place, albeit by virtue of a decision to switch to wet tyres, Fernando Alonso is convinced that Renault are now well-placed to take the fight to BMW Sauber in the remaining races.
"It's a good result for the team, especially for our position in the championship because our objective was to score some important points," he said. "We missed out on a podium today, but we have shown that we can be the third strongest team in the championship."
With Toyota failing to score a point after Timo Glock was penalised for overtaking under yellow flags, Renault have now closed the gap to their immediate championship rivals to just five points.
The result buoyed the team's senior management ahead of the Italian GP in Monza: "We had a good strategy today and Fernando did everything right, which paid us back with a fourth place just behind the top two teams," said Flavio Briatore.
"It's an encouraging result that we are pleased to score for ING in the Belgian Grand Prix, and we now want to maintain this momentum for Monza next week. We are confident that we can continue fighting back in the constructors' championship."
Technical director Pay Symounds added: "Once again, unpredictability produced a superb race. It's pleasing for us that the car was very quick in the dry conditions and that we achieved a good finishing position through fantastic driving from Fernando and good team work from everyone. Our target is fourth position in the championship and today was a good step towards that."