Why Hamilton needs to score an away goal at home…
Lewis Hamilton is putting his Montreal pit-lane calamity behind him a bit too quickly for some members of the press. So is Kimi, though not without kicking up a fuss first and brandishing his assailant's slip-up as "stupid".
Formula One has an uncanny way of moving on and making irrelevant such events as new dramas lay themselves bare to scrutiny. But every now and again you have one of those moments: those racing incidents that you can't help but feel you'll end up revisiting as the championship race nears its conclusion. Indeed, should the title die fall the wrong way for Lewis Hamilton, Montreal, on reflection, might just come back to haunt him.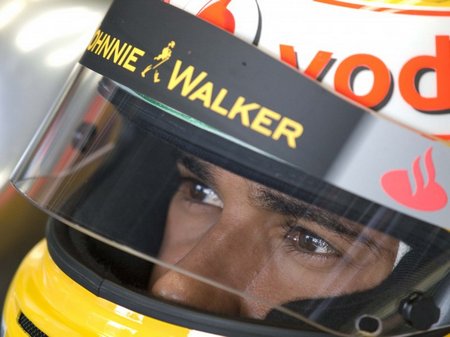 Eyes on the prize: Lewis Hamilton faces an up-hill struggle in France and Britain
The Briton's pit-lane blunder has already significantly altered the landscape ahead of the summer European season, to Raikkonen's favour you would have to say. For although the Finn was unable to score a point for the second row running, he would have been hard-pressed to beat Hamilton in Canada; the McLaren was hooked up beautifully around the Circuit Gilles Villeneuve. In fact, he would have probably had his hands full with the charging Robert Kubica as well. The BMW driver had already got the jump on Raikkonen at the pit-stops, although Kimi cunningly choose to line up alongside the BMW at the red light, setting the scene for a drag race that never was.
In that respect Hamilton's error was less costly to Raikkonen than it initially appeared and was far more detrimental to his own 2008 campaign; Canada was very much home turf for McLaren and Hamilton could and should have won.
Unfortunately for Lewis, now we're entering Kimi country. The Anglo-French assault on Magny-Cours and Silverstone classic tracks under threat despite over fifty years of racing behind them and names not numbers for corners bore witness to Ferrari supremacy last year as Raikkonen knocked McLaren off their pedestal, not to mention 100,000 British fans hoping to see Lewis triumph at Silverstone.
The F2007, with its comparatively longer wheel base and superior rear-end aero performance, was beautifully suited to the sweeping high-speed corners and rapid direction changes that embody these classic circuits in abundance. And Kimi Raikkonen was in dominant form, blitzing his silver rivals as well as his team-mate.
McLaren are confident that the MP4-23 will be much better suited to the demands of Magny Cours and Silverstone this time around having spent much of the winter teasing out the deficiencies of last year's car in the high-speed 'aero' corners. But it remains to be seen whether or not this affords them with an overall advantage over their rivals. The Scuderia showed in Monaco that they have made significant steps to redress their own weaknesses in the slow-speed corners. And take the last sector away from Canada where both drivers lost a lot of time on the marbles, and Kimi Raikkonen wouldn't have been too far off Hamilton's qualifying pace after setting decent first and middle sector times.
Hamilton's failure to win in Canada puts Raikkonen under considerably less pressure as he returns to the tracks that were so kind to him. Should Ferrari still have the upperhand come France, then Hamilton's mistake in Montreal could start to look even more costly.
The British ace effectively conceded an own goal at home, now he needs to make amends away. One thing's for sure, the run down to the Adelaide hairpin on the opening lap in France has just been made a whole lot more interesting.