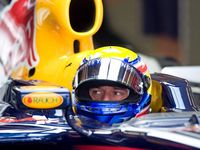 Mark Webber led Red Bull to the top of the time-sheets in pre-qualifying warm up in Istanbul while Friday pace-setters Ferrari struggled to get up to speed in damp conditions.
Webber, unfazed by his off in Friday practice, turned in the fastest lap of the session with team-mate David Coulthard confirming Red Bull s pace in third, just over a tenth of a second slower.
Fernando Alonso thwarted an all Red Bull line-up at the front after going second quickest, the Spaniard s lap hinting that another aggressive race strategy is on the cards for Renault.
Ferrari meanwhile were hampered by the damp conditions and low track temperatures with both Felipe Massa and Kimi Raikkonen struggling to get up to speed on the opening laps of their stints. Massa ended the session fifth fastest having dominated the opening warm-up on Friday and Raikkonen languished in eleventh after twice getting out of shape at Turn 1.
McLaren s Lewis Hamilton traded fastest lap-times with Massa and Alonso in the first half of the session and eventually wound up seventh fastest with team-mate Kovalainen further down the road in twelfth.
Williams driver Nico Rosberg was another driver locked in the early battle for the top spot, the German was fourth quickest at the close a couple of tenths ahead of Felipe Massa.
Jarno Trulli somehow managed to hustle his Toyota into the top six despite struggling with the handling of his car and flying off the track at the notorious Turn 8 late in the session. Timo Glock suggested he could figth for a top-ten qualifying slot after lapping eighth quickest.
Jenson Button is another driver well poised to fight for a top-ten qualifying position after the British ace hustled his improved Honda RA108 into ninth place. Grand prix record-breaker to be Rubens Barrichello finished the session in twelfth.
BMW Sauber had another ominously quiet session, Robert Kubica and Nick Heidfeld lining up sixteenth and nineteenth respectively. The paddock waits in the wings to see the true pace of the Hinwil and Munich outfit in qualifying.
Toro Rosso meanwhile showed some signs of improvement with Sebastian Vettel knocking on the door of the front runner in thirteenth and team-mate Bourdais lining up fifteenth despite losing control of his STR08 at Turn 12.
The Force India pairing of Giancarlo Fissichella and Adrian Sutil line up at the rear separated by Nick Heidfeld.

1.  WEBBER        Red Bull    1m27.030s

2.  ALONSO        Renault     1m27.172s

3.  COULTHARD     Red Bull    1m27.193s

4.  ROSBERG       Williams    1m27.365s

5.  MASSA         Ferrari     1m27.530s

6.  TRULLI        Toyota      1m27.614s

7.  HAMILTON      McLaren     1m27.658s

8.  GLOCK         Toyota      1m27.733s

9.  BUTTON        Honda       1m27.766s

10. PIQUET        Renault     1m27.781s

11. RAIKKONEN     Ferrari     1m27.837s

12. KOVALAINEN    McLaren     1m27.849s

13. VETTEL        Toro Rosso  1m27.899s

14. BARRICHELLO   Honda       1m27.946s

15. BOURDAIS      Toro Rosso  1m27.948s

16. KUBICA        BMW         1m27.971s

17. NAKAJIMA      Williams    1m28.301s

18. FISICHELLA    Force India 1m28.573s

19. HEIDFELD      BMW         1m28.655s

20. SUTIL         Force India 1m29.131s