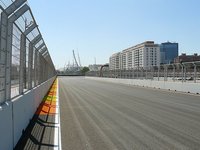 Organisers are working around the clock to get the glamorous Spanish port city of Valencia ready for its inaugural European Grand Prix next week.
The alluring Juan Carlos I Marina, which will provide the backdrop to the much anticipated 57-lap race, has already played host to the 32nd America's Cup in 2007. And in July the 5.4km Herman Tilke-designed street circuit held its first race for Formula 3 and GT cars.
Honda protégé and GP2 star Mike Conway testifies:
"I raced at Valencia the weekend before the Hungarian Grand Prix in a GT sportscar. It's a challenging track, although the high concrete walls give it a very different feel to somewhere like Monaco.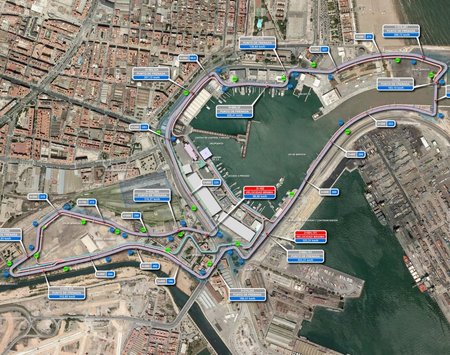 "The first corner is a curved right-hander, which will be taken flat-out in an F1 car, and then it's hard on the brakes for Turn 2, a second-gear right-hander. Turn 3 is a fourth-gear kink, as are Turns 5 and 6, and the cars will probably be in seventh gear before they brake for Turn 8, which is the start of the bridge section.
"There's a small bump as you go on and off the Astilleros Bridge, which could unsettle the cars in the wet, and then there's a 90-degree right before the track drops away and you head down a long, curved straight. Slower cars could be a problem here in qualifying, so you need to keep your eyes on the marshals as you accelerate through the gears.
"You brake really hard for Turn 12 and it is here that it feels most like a street circuit because there are traffic lights hanging across the track and you can see buildings. A double-left comes next and you're almost immediately into Turn 14, a fourth gear 90-degree right. Then you're onto another long straight, at the end of which there's a hairpin that's not dissimilar to the Adelaide Hairpin at Magny-Cours. This will be a good overtaking opportunity.
"You're now into the latter stages of the lap, which is characterised by some fast, sweeping corners. They take you all the way to the final corner, which is a fairly tight left-hander. The exit will be important because you're then heading onto the start/finish straight to start another lap."
Pictures: GPEuropa.net